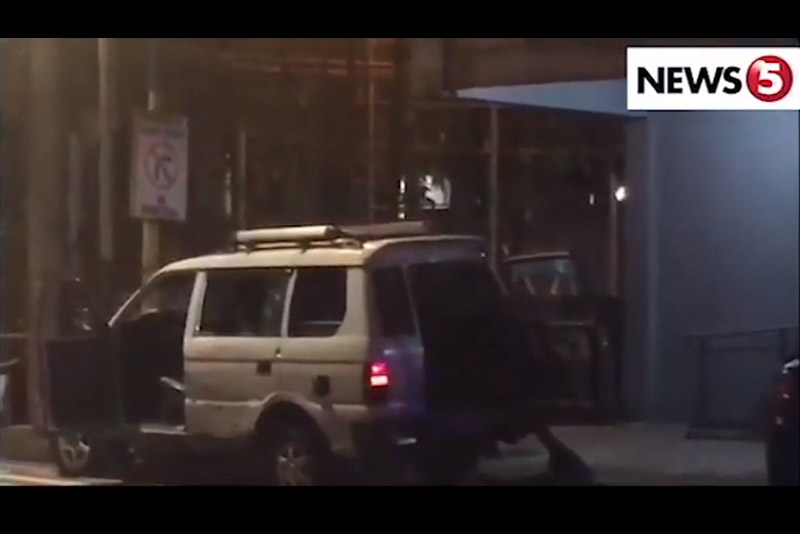 Police officers involved in the shooting have been held and the village watchmen have been called to explain the incident. Screengrab from News5
Mandaluyong police to probe fatal case of 'mistaken identity'
(Philstar.com) - December 29, 2017 - 8:09am
MANILA, Philippines — At least two people have died after law enforcers on Thursday night fired mistakenly shots at an AUV bringing a gunshot victim to the hospital.
According to a News5 report, Senior Superintendent Moises Villaceran Jr. has ordered police officers involved in the shooting along Shaw Boulevard in Mandaluyong held while an investigation into the case of mistaken identity is ongoing.
Villaceran said Mandaluyong police were deployed to assist barangay watchmen in pursuit of a white van that they thought was carrying the shooter in an earlier incident. The van was actually carrying a woman — since identified in reports as Jonalyn Ambaan — who had been shot in that incident.
"The woman was loaded onto the van and the watchmen thought this was the shooter's vehicle," Villaceran said in Filipino. He said police responding to a call for assistance followed the watchmen's lead.
He has since said that the watchmen had fired first.
In an interview on DZMM on Friday morning, Villaceran said Ambaan had been shot during an earlier altercation and was being brought to the hospital. The other group involved in the shooting had reported the incident to barangay authorities, who gave chase.