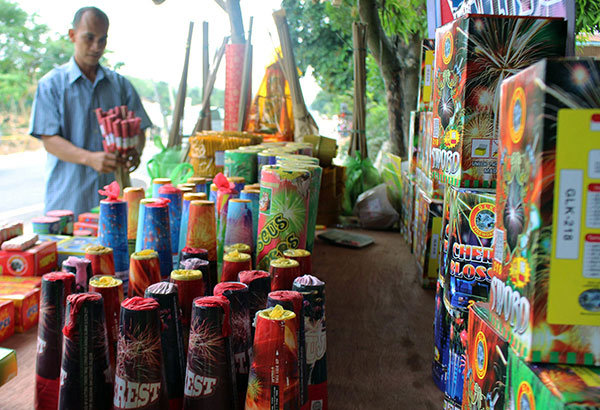 A man arranges firecrackers sold in Barangay Bungol, Balaoan, La Union yesterday. Jun Elias
Few firecracker zones identified in Central Luzon
MALOLOS, Philippines — With less than a week before the New Year celebration, many local government units have yet to designate community fireworks display areas.
In a text message, Chief Superintendent Amador Corpus, Central Luzon police director, said fewer than 600 of the 3,102 barangays in the region have been identified as firecracker zones.
As of noon yesterday, Bulacan had identified 194 fireworks display areas out of its 569 barangays; Aurora (23 out of 151); Bataan (68 of 237); Pampanga (29 of 507) and Tarlac (27 of 511). Only Zambales has designated fireworks display areas in all its barangays.
Angeles City in Pampanga, which had earlier banned the sale and distribution of firecrackers, also designated 14 of its 33 barangays as fireworks display areas.
Executive Order 28, which imposes a ban on the household use of firecrackers, mandates local officials to issue permits, indicating the date, time and specific areas where fireworks displays can be held. Section 2 of the EO allows the use of pyrotechnic devices or pailaw outside residences subject to existing laws, rules and regulations.
Corpus had earlier directed police officials to coordinate with village leaders in identifying firecracker zones.