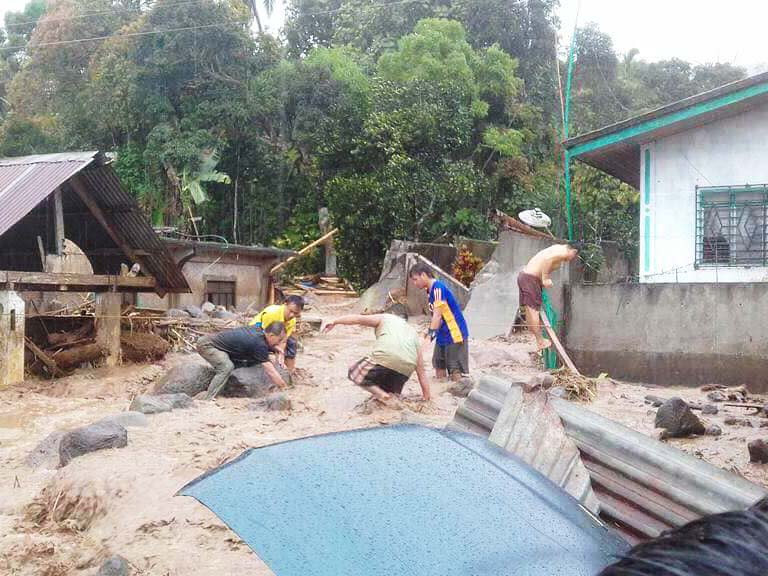 Tropical Storm Vinta left 18 people dead as it dumped heavy rains over Lanao del Sur. Philstar.com/John Unson
18 dead as 'Vinta' pummels Lanao del Sur
John Unson
(philstar.com) - December 23, 2017 - 5:35am
LANAO DEL SUR, Philippines — Eighteen villagers perished as rampaging floods spawned by heavy rains swept through a dozen towns in Lanao del Sur on Friday.
Lanao del Sur, a component province of the Autonomous Region in Muslim Mindanao, is one of the areas worst hit by Severe Tropical Storm Vinta.
Lanao del Sur Gov. Soraya Adiong on Saturday said 18 were killed in the flashfloods that hit the towns of Tamparan, Wato, Tugaya, Madalum, Bubong, Marantao, Ramain, Tamparan, Poona-Bayabao, Bacolod Kalawi and parts of Marawi City.
"These are only from initial reports coming in. Communication became so difficult as an aftermath of the storm," Adiong said.
Adiong has mobilized the heavy equipment of the provincial government and all its rescue and emergency teams to the flood-stricken towns.
The governor said they are still waiting for calamity updates from local government units in other Lanao del Sur towns that were also affected by the tropical storm.
ARMM Gov. Mujiv Hataman said Saturday personnel of their Humanitarian Emergency Assistance and Response Team had been dispatched to assist flood-stricken residents.
Hataman said an emergency contingent has also been sent to the towns of Pagalungan and Montawal in Maguindanao province.
Both towns are located along the 220,000-hectare Liguasan Delta, a catch basin of more than a dozen large rivers that spring from hinterlands in central Mindanao and in Bukidnon in Region 10.
Rivers in Bukidnon that drain at the Liguasan Delta swelled due to torrential downpours on Friday.
Hataman said evacuees shall be provided with relief provisions.