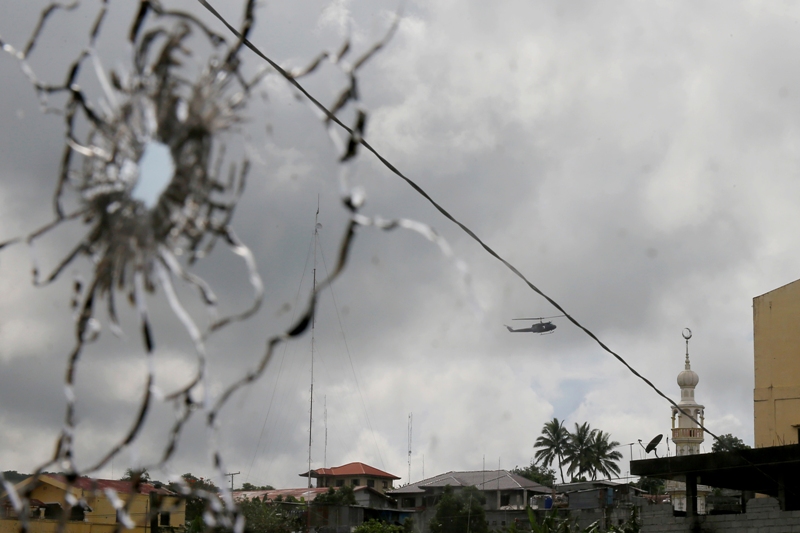 Village leaders identified the fatalities as Ganding Mutalib, Raguiab Tahir, Monsi Kadir, Saliman Guinaid and Kumay Sangutin. Two of the fatalities were immediately buried in a cemetery near a mosque in Sitio Masalan. AP/Bullit Marquez, File
5 BIFF men slain in North Cotabato air strike
John Unson
(The Philippine Star) - December 20, 2017 - 4:00pm
NORTH COTABATO, Philippines — Five members of the Bangsamoro Islamic Freedom Fighters (BIFF) were killed in a military air strike in Barangay Tonganon, Carmen in this province on Tuesday.
Village leaders identified the fatalities as Ganding Mutalib, Raguiab Tahir, Monsi Kadir, Saliman Guinaid and Kumay Sangutin. Two of the fatalities were immediately buried in a cemetery near a mosque in Sitio Masalan.
Three other militants identified only as Oting, Samier and Mustapha were wounded.
The military said the air strike targeted the hideout of Esmael Abdulmalik, the leader of a faction of the BIFF.
S/Sgt. Wenceslao Nacional, Cpl. Gerry Culaban, Pfcs. Ignacio Cinco and Joel Looc and a militiaman identified only as Lacuesta of the Army's 602nd Infantry Brigade (IB) were wounded in the encounter with the militants following the air strike.
Capt. Arvin Encinas, 6th Infantry Division spokesman, said clearing operations continued yesterday.
Brig. Gen. Nolly Samarita of the 602nd IB said the gunfight erupted when the militants fired at soldiers who responded to reports that armed men were seen roaming in Sitios Martesan and Misalan, both remote areas in Barangay Tonganon.
200 families displaced
The military said more than 200 families were displaced in the firefight and relocated to nearby Barangay Lawili. Another group of more than 60 villagers also evacuated their homes.
Samarita said Army intelligence agents were tasked to help the police secure villages against possible retaliation by BIFF bandits.
He said Army soldiers are assisting local officials in providing relief assistance to displaced families.
"We are doing everything to prevent the militants from getting close to populated areas," Lt. Gen. Carlito Galvez Jr., Western Mindanao Command chief, said.
Three weeks ago, more than 2,000 villagers were affected when BIFF men clashed with soldiers also in Carmen town. – With Jaime Laude