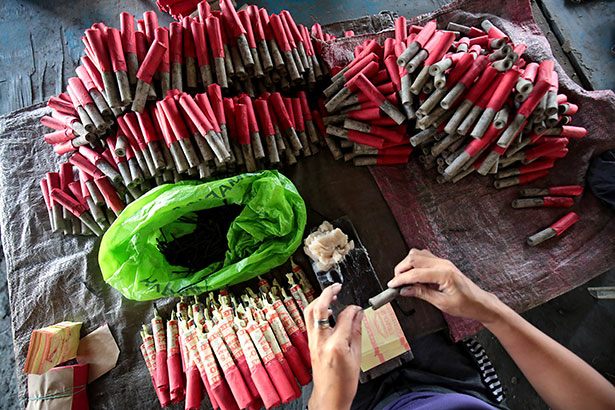 In a resolution, the Angeles City peace and order council approved yesterday a total ban on firecrackers "for health and safety reasons and in compliance with the directive of President Duterte." Michael Varcas, File
Angeles City bans firecrackers
ANGELES CITY, Philippines — The sale and distribution of firecrackers in this city has been banned.
In a resolution, the Angeles City peace and order council approved yesterday a total ban on firecrackers "for health and safety reasons and in compliance with the directive of President Duterte."
"The sale and distribution of firecrackers in the city...is prohibited. The business permit and licensing division will not process any application," Mayor Edgardo Pamintuan said.
"Individuals may still celebrate the coming New Year with legally allowed pyrotechnics and other noise-making devices such as horns and sirens…All types of firecrackers are no longer allowed in this city," Pamintuan said.
He said he would request the owners of malls and big hotels in the city to conduct fireworks display during the New Year celebration.
"The public may watch them from their homes or join the revelry," Pamintuan said.
Bulacan fireworks display areas
In Bulacan, Malolos Mayor Christian Natividad said an open area at the Malolos Sports Convention Center in Barangay Bulihan would be designated as fireworks display area for residents of 51 barangays.
Pulilan Mayor Maria Rosario Ochoa-Montejo said an open space in Barangay Cutcot would be used by 19 barangays.
Superintendent Jowen dela Cruz, Bocaue police chief, said they have also identified a firecracker zone, but has yet to submit their report to the provincial police office.
Maricel Cruz, Bulacan public affairs office chief, said they are still waiting for local government officials to submit their proposed community fireworks display areas.
Chief Superintendent Amador Corpus, Central Luzon police director, had earlier said police officials should coordinate with barangay leaders in identifying firecracker zones.
Executive Order 28, which regulates the use of pyrotechnics and fireworks, mandates local officials to issue permits indicating the date, time and specific areas where fireworks displays can be held.
The EO allows the use of pyrotechnic devices outside residences subject to existing laws, rules and regulations.
Jeremiah Caguingin said the Provincial Cooperative Economic and Development Office of Bulacan, which serves as the secretariat of the Pyrotechnics Regulatory Board of the province, has sent requests to city and municipal governments to submit their recommendations as soon as possible. – With Ramon Efren Lazaro