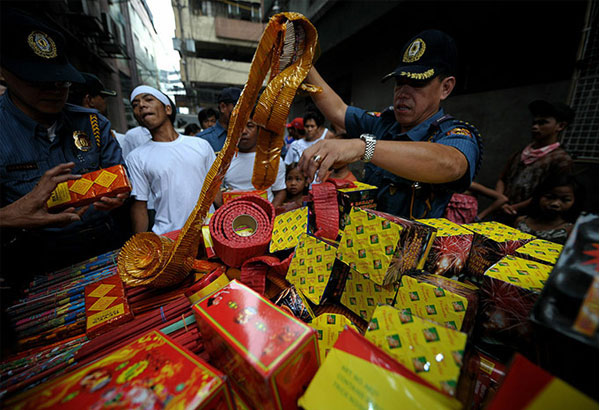 Chief Superintendent Amador Corpus, Central Luzon police director, said yesterday he ordered police officials to coordinate with barangay leaders in identifying fireworks display areas. File
Release firecracker zones list, LGUs told
MALOLOS , Philippines — With barely two weeks before the New Year celebration, local government officials have been asked to release the list of firecracker zones in their respective areas.
Chief Superintendent Amador Corpus, Central Luzon police director, said yesterday he ordered police officials to coordinate with barangay leaders in identifying fireworks display areas.
"We continue to inspect firecracker stores in the region to prevent the sale of prohibited firecrackers," Corpus added.
Joy Gomez, Bulacan provincial health officer, said barangay officials should submit their proposed fireworks display areas to the Department of the Interior and Local Government.
Executive Order 28, which regulates the use of pyrotechnics and fireworks, mandates local officials to issue permits, indicating the date, time and specific areas where fireworks displays can be held in line with national standards, rules and regulations.
Fireworks manufacturers and other stakeholders urged local government officials to immediately identify the firecracker zones, saying their sales could be adversely affected.
Several fireworks manufacturers decided not to renew their license amid concerns that a total ban on the use of firecrackers would be imposed nationwide and result in the collapse of the fireworks industry.
Joven Ong, president of the Philippine Fireworks Association, said Section 2 of EO 28 still allows the use of pyrotechnics outside the residences.
"If local government units will ban both firecrackers and pyrotechnics…it will drive people to use illegal firecrackers which is more dangerous. I hope the LGUs that issued ordinances against EO 28 will amend or suspend the implementation of their ordinances to make sure that fewer injuries will occur," Ong said.