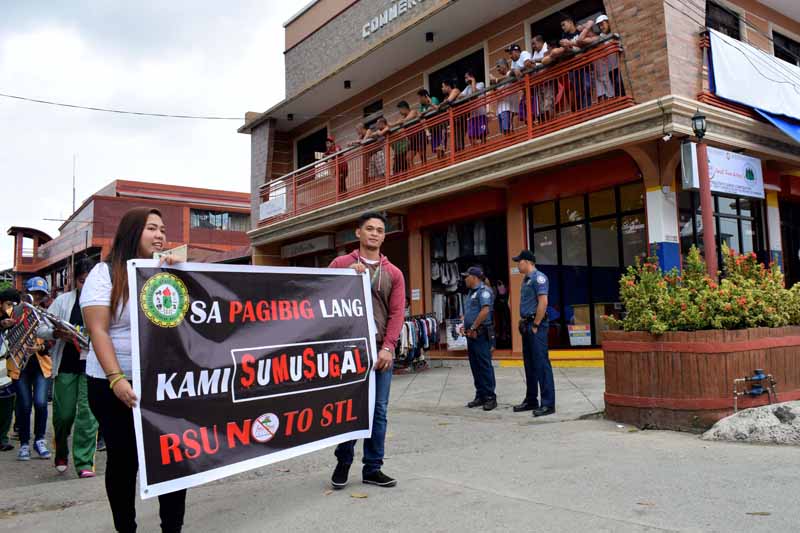 The local government of Odiongan says Small Town Lottery is not welcome in the town. Romblon News Network
Hundreds gather to protest Small Town Lottery in Odiongan
(philstar.com) - December 15, 2017 - 6:00am
MANILA, Philippines — Hundreds of residents of Odiongan in Romblon joined a community walk and rally to protest Small Town Lottery operations in their town.
According to
Romblon News Network
, more than 1,000 people, including students, town and barangay officials and church members, walked to Odiongan Children's Park and Paradise Friday morning.
Mayor Trina Firmalo-Fabic, who was at the rally with Vice Mayor Mark Anthony Reyes, Pines Estate Gaming Corp. did not seek approval from the local government to run STL, a numbers game meant to replace jueteng. She said the Philippine Charity Sweepstakes Office, which grants STL permits, did not consult the municipal government either.
"They say STL is the answer to the illegal operation of jueteng. But there is no jueteng in Romblon. There is no loteng (another illegal numbers game) in Odiongan, or if there is, it's done in secret," she said in Filipino.
"The STL outlet is within 100 meters of a place of learning and a place of worship, which isn't allowed," she said.
She said the municipal government has already written the PCSO about the issue. The municipal council and the Association of Barangay Captains have also passed resolutions opposing STL.
Pastor Teofelito Rufon, a member of the Inter-Faith Council that organized the protest, urged residents to boycott STL and to make their opposition to the lottery known on social media.