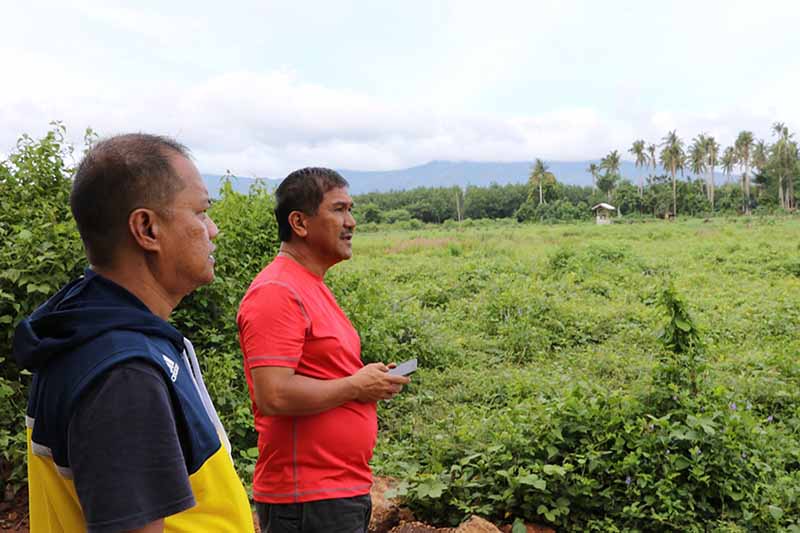 Lamitan City Vice Mayor Roderick Furigay and his executive assistant, Radamier Abbas, show the land where they want an Army Division camp established. Philstar.com/John Unson, File photo
Basilan vice mayor suspended for grave misconduct
MANILA, Philippines — The Office of the Ombudsman has ordered the the six-month suspension of Lamitan City, Basilan Vice Mayor Roderick Furigay in connection with the contracts entered with two firms supposedly owned by his relatives during his term as the city mayor.
In a decision recently signed by Ombudsman Conchita Carpio-Morales, Furigay was found guilty of administrative offense of grave misconduct and was ordered suspended for six months without pay.
The other respondents in the administrative case namely; Bids and Awards Committee (BAC) chairman Florence Herrera, acting city acountant Nilo Sotto and BAC members Ignacio Enriquez, Olivia Ablao, and Raquel Hibionada were found guilty of simple misconduct and were ordered suspended for one month.
Based on the ombudsman's investigation, the city government, in 2012, entered into a contract with HHH Developer and Real Estate Inc. (HDRI) for the supply of construction materials for the city's Kulay-Bato Boat Landing Project. The ombudsman said a total of P548,256 was paid to HDRI.
In the same year, the city government also supposedly entered into another contract amounting P175,000 to Furigay College Inc., (FCI) for a five-day scuba diving course as part of the city's Geographical Protection and Awareness Program.
The ombudsman said owners and incorporators of both HDRI and FCI are "closely related" to Furigay but the two firms did not submit any affidavits of disclosure of relationships.
The ombudsman further said HDRIC and FCI's submitted supporting documents for the transactions were "questionable" but payments were still released to them.
"Respondent Furigay's act of permitting the business transaction of his close relatives lacked the necessary justifications as to render them aboveboard, not to mention that the supporting procurement documents are highly questionable, gives away a contrary disposition on his part, and his tendency to succumb to corruption," the ombudsman's decision read.
The ombudsman cited a notice of disallowance issued by the Commission on Audit in June 2012, ordering the immediate refund of the payments made to HDRI and FCI.
The ombudsman said that while the two firms refunded to the local government the whole amount totaling P723,256, this must not clear the concerned public officials from administrative liabilities.
"Respondents Furigay as the approving officer of the contracts and the ensuing disbursements, Sotto as the certifier of the regularity as well as the completeness of the supporting documents, and Herrera, Enriquez, Ablao and Hibionada as the BAC members, who recommended the award, are liable for misconduct," the decision read.
"The impression that suppliers who have a relationship with the procuring entity are given preference, and the appearance of unlawfulness or impropriety that arises when purchase transactions are entered with them, should have cautioned respondents to be extra careful with their actions," it added.
Furigay was succeeded by his wife, Rose, as mayor of Lamitan City in the May 2016 elections.