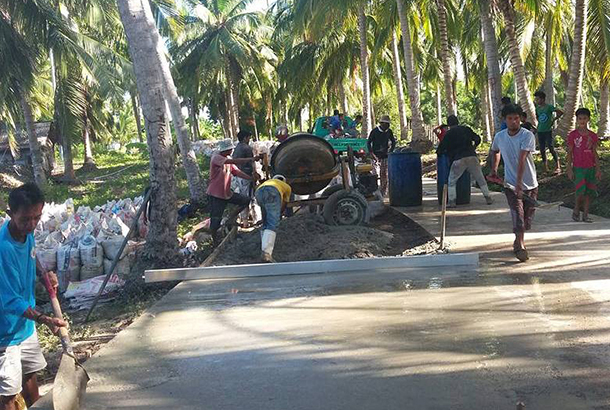 Ongoing concreting works at a portion of the Pilas-Muthamad Road in Basilan. John Unson, file
Basilan wins regional award for road maintenance
John Unson
(philstar.com) - December 14, 2017 - 2:40am
COTABATO CITY, Philippines — The Basilan District Engineering Office bagged on Wednesday an award for the efficient maintenance of roads crisscrossing former Abu Sayyaf enclaves now dotted with agricultural settlements.
The Basilan DEO was cited best in road maintenance from among eight district engineering offices in the Autonomous Region in Muslim Mindanao, during the 27th anniversary of the devolution of the Department of Public Works and Highways to the ARMM regional government.
The functions of the DPWH were devolved to ARMM based on the region's first charter, the Republic Act 6734 that was enacted into law in 1990 and became R.A. 9054 via a congressional amendment in 2000.
Basilan district engineer Soler Undug, said Thursday they also received from ARMM Gov. Mujiv Hataman and regional Public Works Secretary Don Loong, the "best in administrative management award" during the event on Wednesday at the DPWH-ARMM office in Cotabato City.
"The two awards were enough recognition of our effort to help spread peace in Basilan through massive infrastructure interventions by ARMM which we are helping implement," Undug said.
Among ARMM's ongoing big-ticket projects being managed by the Basilan DEO is the P1 billion worth "transcentral road" that would cut through hinterlands in the center of the island province where remnants of the Abu Sayyaf are holding out.
Lt. Gen. Carlito Galvez, Jr. of the Western Mindanao Command said Thursday the colossal road project will surely drive away the Abu Sayyaf from its last bastion, the upland areas in Sampinit Complex in the middle of Basilan.
"We support this project. Our units in Basilan are securing the workers building the road," Galvez said.
The ARMM is also constructing a P150 million worth regional government center in Barangay Santa Clara in Lamitan City, capital of Basilan, to accommodate provincial offices of the region's line agencies.
The Abu Sayyaf has been targeting Basilan DEO employees involved in projects designed to weaken its influence on local communities such as public schools, farm-to-market roads, bridges and agricultural facilities.
The group thrice tried to kill Undug using improvised explosive devices.
Undug's administrative staff, Emily Trumata, was named outstanding administrative officer for 2017 during Wednesday's festivity at the DPWH-ARMM regional office inside the 32-hectare regional capitol compound in Cotabato City.
Trumata emerged as the best performing administrative officer from among seven others in the ARMM's district engineering offices in an evaluation initiated several weeks before.
Undug said he was confident Trumata would get the award owing to her efficient performance as administrative officer of the Basilan DEO.