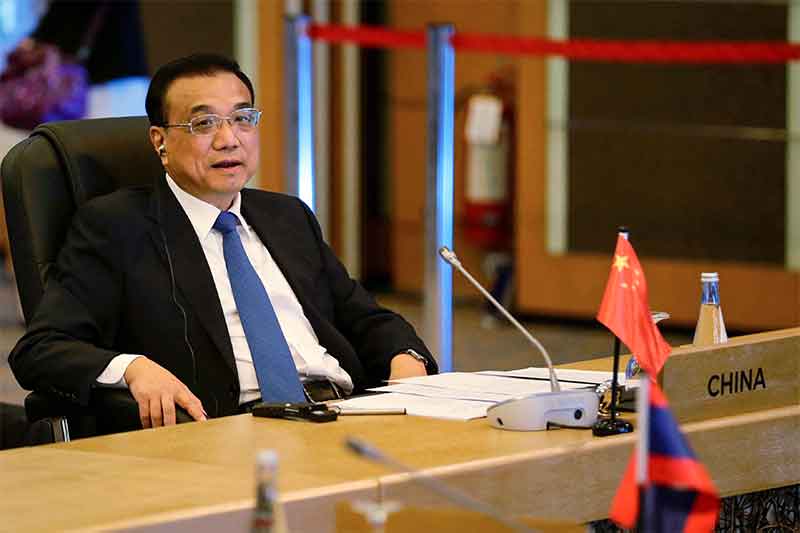 Chinese Premier Li Keqiang talks during the 20th ASEAN China Summit in Manila, Philippines, Monday, Nov. 13, 2017. Linus Escandor/Pool Photo via AP
China to donate solar lights to Antique, El Nido
MANILA, Philippines — The Chinese government is set to donate about 3,000 units of solar-powered LED street light and household solar power device in the province of Antique and in the municipality of El Nido in Palawan to help combat climate change.
In a press statement, Environment Secretary Roy Cimatu said a memorandum of understanding was recently signed between the Philippine's Department of Environment and Natural Resources and the People's Republic of China's National Development and Reform Commission.
The DENR said the MOU was signed by Cimatu and NDRC vice chair Zhang Young at Malacañang during the visit of Chinese Premier Li Keqiang on November 15.
"The agreement was signed to strengthen mutual trust and cooperation between the two parties to effectively mitigate the adverse effects of climate change and improve social wellbeing," Cimatu said.
"We hope that through this agreement, we will be able to promote renewable energy in the far-flung areas in the Philippines and reduce carbon emissions," he added.
Under the MOU, Chinese government is set to donate to the Philippines 2,117 units of solar-powered street lights and 769 units of household solar power system.
A total of 1,562 units of street light will be delivered to 100 barangays in Antique and are expected to benefit approximately 116,080 individuals while the 769 units of household solar power system are expected to benefit 151 barangays or approximately 179,848 individuals.
A total of 555 units of solar LED street light will be distributed to six barangays in El Nido, with 7,025 residents expected to benefit from the donation.
The DENR is set to shoulder all the taxes and other costs arising from the entry of the goods to the Philippines as well as goods' transportation and distribution to the localities.
The DENR will also supervise the the installation of the devices and provide trainings for technical staff.
The MOU also states that the DENR and NDRC shall coordinate and establish task forces and liaison that will monitor the implementation and evaluate the results of the project.