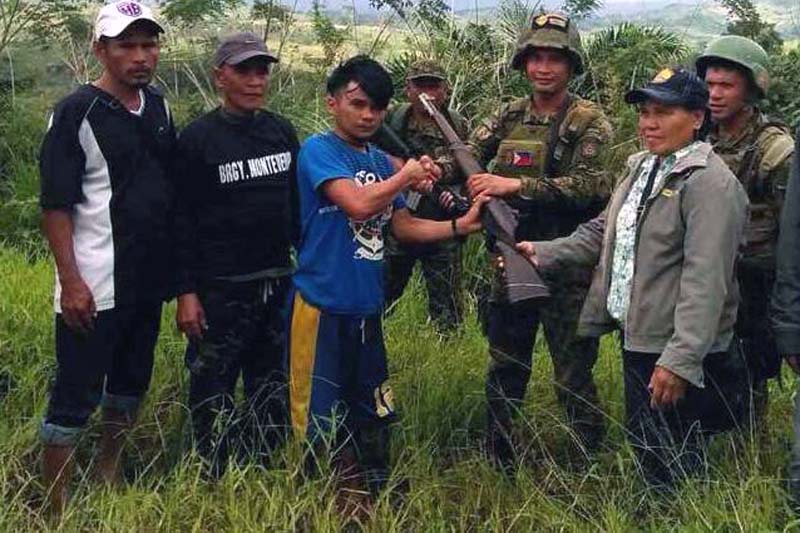 The two rebels surrendered to the Army on Sunday. John Unson
2 NPAs surrender to Army in Sultan Kudarat
John Unson
(philstar.com) - December 12, 2017 - 5:43am
SULTAN KUDARAT, Philippines — Young communist rebels from a group extorting money from farmers have surrendered to the military, a senior Army official said today.
Lt. Col. Harold Cabunoc of the Army's 33rd Infantry Battalion on Tuesday said Ruben Balagay, 19, and Marlon Dayao,20, both alleged members of the New People's Army also turned over rifles when they pledged allegiance to the Philippine flag on Sunday.
The duo belonged to the NPA's Guerilla Front 73, which operates in the towns of Bagumbayan, Sultan Kudarat and Lake Sebu in South Cotabato.
They agreed to turn themselves in through the intercession of Cabunoc and of local officials.
More than 70 NPAs have surrendered to the 33rd IB since January through quiet negotiations supported by the local government unit of Bagumbayan and the office of Sultan Kudarat Gov. Pax Mangudadatu.
Cabunoc said Balagay and Dayao have confessed to their involvement in the NPA's forceful collection of "protection money" from villagers to raise funds for food and other needs.
Balagay and Dayao have separately told reporters that life in the jungles in the boundary between Sultan Kudarat and South Cotabato provinces was extremely difficult.