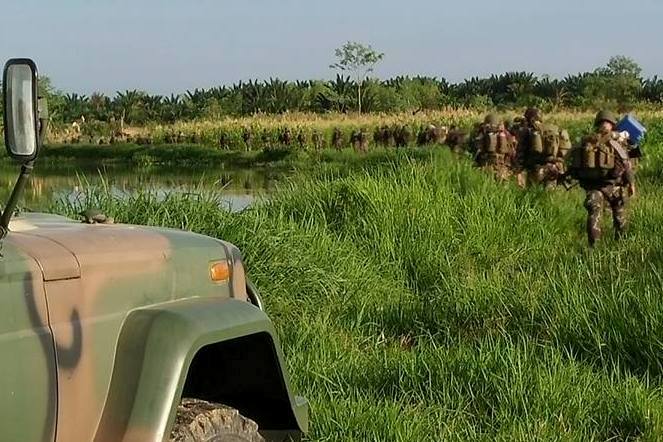 Personnel of the Army's 40th and 57th Infantry Battalions are looking for BIFF leaders Herodin, Khadza and Lucman. File photo
Massive manhunt in Maguindanao for 3 BIFF leaders
John Unson
(philstar.com) - November 15, 2017 - 7:32am
MANILA, Philippines — Two Army battalions launched before dawn Wednesday an extensive hunt for three commanders of the outlawed Islamic State-inspired Bangsamoro Islamic Freedom Fighters.
The BIFF, which uses the black Islamic State flag as its banner, is actively fomenting animosity against non-Muslims using poverty, neglect by government and other social disparities as talking points to entice prospective recruits.
Personnel of the Army's 40th and 57th Infantry Battalions started their search for wanted BIFF leaders Herodin, Khadza and Lucman at the border of Maguindanao's adjoining Shariff Aguak and Datu Unsay towns around 3 a.m.
The three commanders are henchmen of Imam Bongos, the self-proclaimed leader of one of three BIFF factions.
The BIFF groups are not covered by the government's current interim ceasefire pact with the Moro Islamic Liberation Front, from which they broke away before a peace deal could be forged.
Maj. Gen. Arnel Dela Vega of the Army's 6th Infantry Division told The STAR on Wednesday that operations against three senior BIFF leaders are being coordinated with the ceasefire committee of the MILF.
Local officials said the groups of Herodin, Khadzai and Lucman are behind the recent harassments of Army detachments in Maguindanao.
The three BIFF commanders and their followers retreated to a swampy area near the neighboring Salibo and Sharif Saidona towns after sensing that soldiers were advancing towards their positions.
Lt. Col. Gerry Besana, spokesman of the Army-led anti-crime Task Force Central, said a nearby artillery unit bombarded the spots where the three commanders were reportedly seen by villagers.
The barrage was meant to keep the BIFF from attacking the soldiers who were approaching from two directions.
Another group of BIFF gunmen attempted but failed to stop a convoy of soldiers proceeding to Barangay Timbangan in Shariff Aguak.
The convoy carrying members of the 40th IB were to join the offensive from Barangay Timbangan.
No one from among the soldiers, led by 1Lt. Rhamzy Lego, was hurt in the IED attack.
Lego and his men are now scouring the swampy areas at the boundary of Shariff Aguak and Datu Unsay for the BIFF leaders.