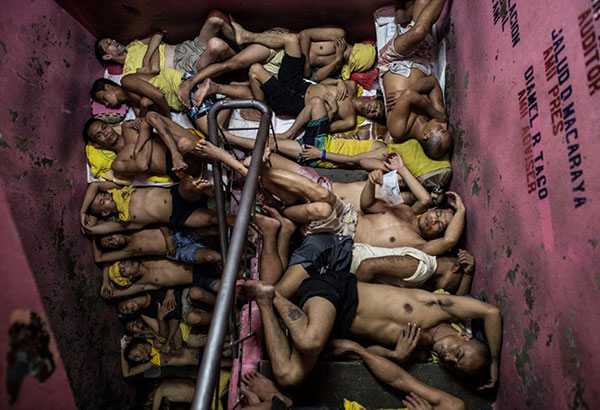 Inmates sleep on the steps of a ladder inside the Quezon City jail at night in Manila in this picture taken on July 21, 2016. Noel Celis, AFP
Drug war congests jails by 623%
MANILA, Philippines — President Duterte's campaign against illegal drugs has congested the facilities of the Bureau of Jail Management and Penology (BJMP) by 623 percent.
As of yesterday, Senior Inspector Xavier Solda, BJMP spokesman, said there were 152,393 inmates in 475 jails across the country.
Solda said there were only 98,000 inmates before Duterte assumed office last year.
"The increase in the jail population is related to the drug war," Solda said.
There are around 12,500 BJMP officers and personnel, only 7,000 of them performing custodial duties.
The bureau earlier requested Congress for approval to hire 2,000 personnel a year to boost its manpower.
The BJMP is also pushing the construction of more detention facilities.
Solda said they have been asking local government units to donate land for the construction of jails.
The government has earmarked P1.5 billion for the construction of new jails in 2018.