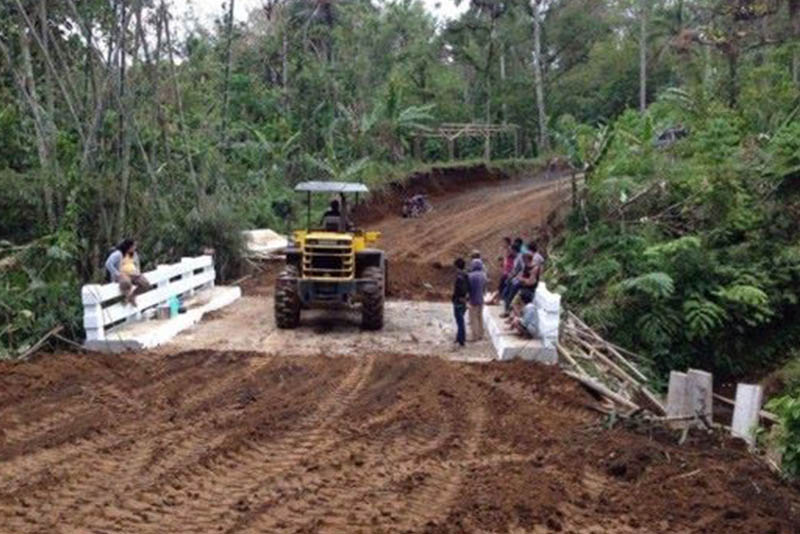 This overland artery in an upland area in Bayang town is one of dozens of ARMM projects in Lanao del Sur. STAR/John Unson
Troops secure infra projects from militants
John Unson
(philstar.com) - October 28, 2017 - 2:55am
LANAO DEL SUR — Authorities are now guarding high-ticket infrastructure projects vulnerable to sabotage by militants after suffering from a severe defeat in Marawi City this month.
Lt. Gen. Carlito Galvez, Jr. of the Western Mindanao Command said on Saturday that it is part of an effort to help ensure the completion of on-going projects in remote areas in the Autonomous Region in Muslim Mindanao by its regional government.
"These projects will improve the lives of people, generate livelihood for them, give children easy access to schools and make convenient the delivery of health, education, social welfare and other basic services to them. That is what militants do not want to happen," Galvez said.
The Maute group and its allies, the Abu Sayyaf and the Bangsamoro Islamic Freedom Fighters, are rabidly opposed to infrastructure projects that could weaken their influence on peasant communities from where they forcibly collect money for food and other needs.
The three militant groups are using the flag of global terror group Islamic State as their revolutionary banners.
Police Chief Superintendet Graciano Mijares, director of the Police Regional Office-ARMM, said on Saturday that law enforcement activities in many far-flung areas are a lot easier with new roads and bridges built in the past four years.
"Securing on-going infrastructure projects of the ARMM government is one serious concern for us," Mijares said.
New bridges
Drone recordings and a matrix obtained from the Department of Public Works and Highways-ARMM indicated that in Maguindanao and Lanao del Sur alone, the agency constructed 24 bridges in the two provinces from 2014 to late 2016.
The 24 bridges, costing P686.1 million, now connects once isolated farming enclaves to town centers where farmers sell their farm products that in the past rotted in their barns during rainy days. The products could not be transported to markets due to the absence of all-weather overland arterial networks.
The bridges were built by the office of ARMM Gov. Mujiv Hataman and the regional public works department, through the district engineering offices in Maguindanao and Lanao del Sur, using allocations from the region's yearly infrastructure budget from the national coffer.
Records from state auditors indicated that the Hataman administration spent P211.5 million for the 16 bridges built in Lanao del Sur in the past three years.
Eight larger bridges costing P474.5 million were also built in Maguindanao during the period.
Galvez said officials of component-units of WestMinCom based in Maguindanao and Lanao del Sur where the 24 bridges were constructed have noticed dramatic improvements in the lives of local residents.
"That is something violent religious extremists are trying to prevent from happening," Galvez said.
Galvez and Mijares, who assumed as ARMM police director only last October 20, separately told The STAR they will cooperate in securing on-going infrastructure projects in the autonomous region from militant groups using poverty, neglect and underdevelopment as talking points in recruiting potential members.
Units of WestMinCom and the ARMM police tightened security last week in areas where workers are constructing strategic stretches of the P1 billion worth "transcentral road" in Basilan due to threats of attacks by the Abu Sayyaf.
The more than 60-kilometer thoroughfare will traverse the remaining enclaves in Basilan's Sampinit and Punoh Mahadje areas of remnants of the Abu Sayyaf.
ARMM police officials said more than a hundred suspects in heinous crimes were arrested from between 2015 to October 2017 in remote areas in towns that were made accessible to patrol cars and military armored vehicles by roads and bridges constructed by the regional government in recent years.