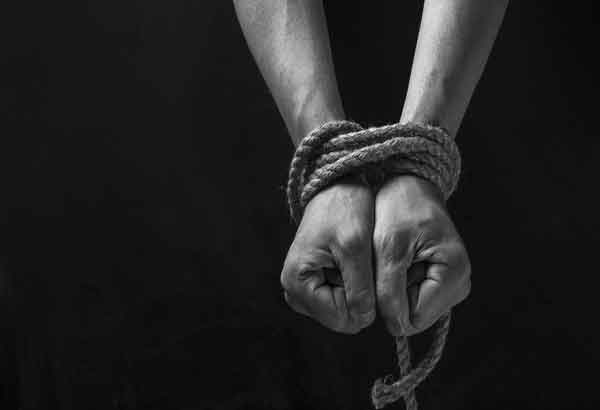 The alleged leader of the kidnapping syndicate, Police Officer 3 Rodel Estonactoc, 41, of the Quezon City police; dismissed Rizal police officer Ramil Espejo, 38; former police Special Action Force commando Rolando Albios and Erwin Escobido, 32, were in a silver Mitsubishi Adventure (ABQ-6451) when they reportedly pulled out their guns and fired at anti-kidnapping operatives who spotted them along San Lazaro Road in Barangay Mabuhay at around 4:10 a.m. File
8 kidnap, rob suspects slain in Cavite, Pangasinan
(The Philippine Star) - October 27, 2017 - 4:00pm
MANILA, Philippines — Four suspected kidnappers, including a police officer, and four robbery suspects were killed in alleged shootouts with lawmen in Cavite and Pangasinan, respectively, yesterday.
The alleged leader of the kidnapping syndicate, Police Officer 3 Rodel Estonactoc, 41, of the Quezon City police; dismissed Rizal police officer Ramil Espejo, 38; former police Special Action Force commando Rolando Albios and Erwin Escobido, 32, were in a silver Mitsubishi Adventure (ABQ-6451) when they reportedly pulled out their guns and fired at anti-kidnapping operatives who spotted them along San Lazaro Road in Barangay Mabuhay at around 4:10 a.m. They died at the scene.
Police said a caliber .45 and three 9mm pistols were recovered from the fatalities.
Senior Superintendent Glenn Dumlao, Philippine National Police-Anti-Kidnapping Group (AKG) director, said the encounter followed two days of intelligence operations.
Dumlao said the suspects kidnapped Chinese businessman Carlos Tan and his driver along the Ninoy Aquino International Airport Expressway in Parañaque on Saturday last week.
Dumlao said Tan's family sought their assistance after the kidnappers demanded P50 million. He said the AKG monitored the negotiations between the families of the victims.
'We negotiated for P5 million, but the kidnappers insisted on P10 million," Dumlao said in an interview over dzBB.
Shortly after they lost communication with the kidnappers, Dumlao said Tan's driver sought police assistance following his release in Tagaytay.
The driver said Tan could have been killed by his captors, noting that he heard two gunshots before he was released.
On Sunday, police found Tan's body being eaten by a monitor lizard in a ravine in Tagaytay.
Cop surrenders
At noon yesterday, another police officer implicated in Tan's kidnap-slay, SPO1 Benjamin Pagarigan of the Quezon City police, surrendered in Moncada, Tarlac.
Dumlao said the driver positively identified Pagarigan and the slain suspects.
A manhunt for two other suspects, including another police officer, is underway.
Dumlao said the other suspect is a gambler at Resorts World Manila, who provided Tan's profile to the kidnappers.
Pangasinan shootout
Meanwhile, in Pangasinan, four suspected members of a robbery gang who have yet to be identified allegedly shot it out with police at a hotel in Poblacion District 11 in Pozorrubio.
Chief Inspector Melicio Medina, town police chief, said the suspects opened fire at personnel of the Ilocos region police and Criminal Investigation and Detection Group who responded to reports on the presence of armed men who checked into the hotel.
No one was reported hurt among the law enforcers.
Medina said assorted firearms and a black Toyota Fortuner with no license plates were recovered from the fatalities. – With Eva Visperas