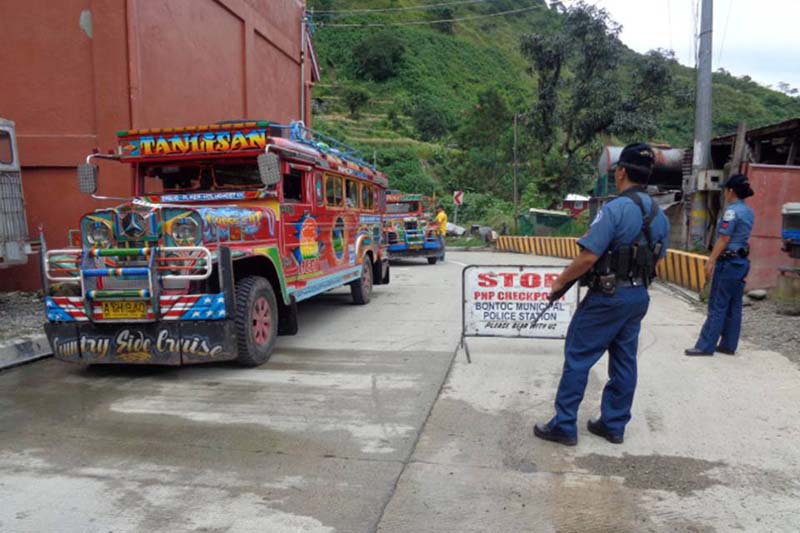 A police checkpoint in Caluttit, Bontoc. A checkpoint in Lower Caluttit in the same town netted more than P600,000 in marijuana last week. Bontoc Municipal Police Station Twitter account
Cordillera police seize P600K in marijuana at simulated checkpoint
BENGUET, Philippines — It was just an exercise but the haul was real.
Police officers on simulation exercises seized over half a million marijuana bricks from two traders in Bontoc, Mountain Province on Friday afternoon.
The marijuana, valued at P601,100, was seized while the two alleged drug traders Mark Justin Jemilla Dayrit, 22 and Bob Bruce Dionisio Jr., 22 — both from Mabalacat, Pampanga — were taken for questioning and to face drug charges.
Members of the 1st Manuever Platoon of the Provincial Public Safety Company set up a checkpoint along the national road in in Lower Caluttit as part of their exercise and flagged down a red Isuzu crosswind that Dayrit and Dionisio were in.
Police noticed a marijuana brick protruding from the backrest of the front passenger seat, prompting them to ask the duo to open their bags.
They found six marijuana bricks weighing around 6.11 kilos.
Chief Superintendent Elmo Sarona, Cordillera police director, hailed the police officers for the haul and encouraged all police personnel in the region to be vigilant and visible at all times to deter illegal drug activities and crime.
The Philippine Drug Enforcement Agency was designated the lead agency in anti-drug operations this month. The Philippine National Police said it will now focus on motorcycle-riding criminals and other street crimes.