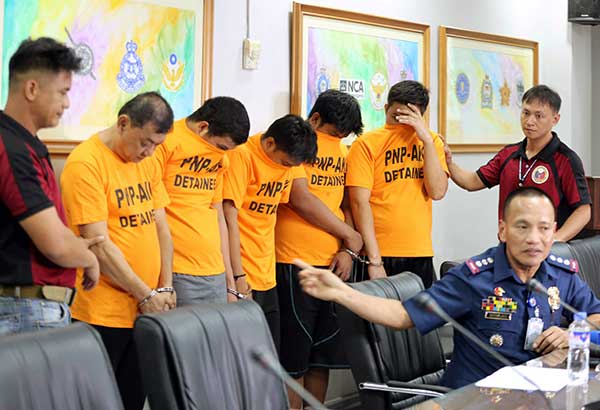 PNP-AKG head Senior Superintendent Glenn Dumlao presents the suspects in the kidnapping of a Chinese man and two Koreans at Camp Crame yesterday. The victims were rescued in Guiguinto, Bulacan on Monday night. BOY SANTOS
Chinese, 2 Koreans rescued from captors in Bulacan
MANILA, Philippines — A Chinese and two Korean men kidnapped in Manila were rescued in Bulacan on Monday night.
Liu Xia was snatched on Sept. 15, Park Pan-ho on Thursday last week and Yeum Sun-ki on Monday. They were brought to a safehouse in Barangay Sta. Cruz, Guiguinto.
Senior Superintendent Glenn Dumlao, head of the Philippine National Police-Anti-Kidnapping Group (PNP–AKG), said they conducted rescue operations after the South Korean embassy reported the kidnapping of Yeum.
Police operatives conducted a stakeout and entered the safehouse when one of the occupants was monitored leaving in a car at around 8:25 p.m.
"We were surprised to find the two other victims," Dumlao said.
Ernesto Marella, 55, owner of the safehouse; his partner Florida Dionisio, 34; Alexander Dionisio, 30; Jomar dela Peña, 29; Raymond dela Peña, 22, and Ferdie Dionisio, 32, all natives of Balanga, Bataan, were arrested.
Dumlao said Marella, the alleged leader of the group, was engaged in money lending in several casinos and the victims were among his clients.
It was not disclosed how much the foreigners owe Marella.
Dumlao said the kidnappers refused to release Liu and Yeum even after paying P500,000 and P800,000, respectively.
He said the suspects would be charged with kidnapping and serious illegal detention before the Department of Justice.
Houseboy freed
In Laguna, a houseboy snatched from the house of his employer in Barangay Pook, Rizal was rescued on Sunday night.
Lamberto Magbalana III was forced into a tricycle that sped toward the Nagcarlan-Sta. Cruz road.
Peter Bulleser, 44; Raymart Fernando, 19; Bryan Barnedo, 36; Arvin Rosales, 35, and a minor were cornered in a tricycle after a brief chase along Talangan road in Nagcarlan, Senior Superintendent Cecilio Ison, Laguna police director, said yesterday.
Ison said they set up checkpoints along the possible exit routes of the suspects after Magbalana's employer Lydia Pisano reported the incident.
Police are readying the charges to be filed against the suspects. – With Ramon Efren Lazaro, Ed Amoroso