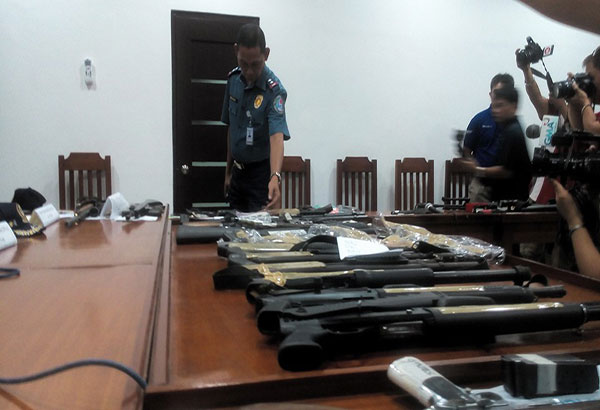 The unlicensed guns were collected in an operation supported by the provincial police and the Philippine Army. Christian Ryan Sta. Ana, file
Police confiscate 30 unlicensed guns in Sultan Kudarat town
John Unson
(philstar.com) - October 13, 2017 - 5:20am
SULTAN KUDARAT, Philippines — Authorities confiscated 30 unlicensed firearms from residents in a remote village in Columbio town in Sultan Kudarat province on Thursday.
The crackdown was launched following a rash of shooting incidents in the area.
The firearms — 26 shotguns, three cal.22 hunting rifles and an imitation M14 assault rifle, were collected from residents of Sitio Lam-is in Barangay Datalblao in Columbio in an operation by personnel of the municipal police led by Senior Inspector Bernard Francia, Jr.
Chief Inspector Aldrin Gonzales, spokesman of Police Regional Office-12, said on Friday that the operation was done with assistance from the Army's 39th Infantry Battalion and the Sultan Kudarat provincial police office.
Barangay and municipal officials in Columbio also helped in the collection of the unlicensed firearms.
Gonzales said the campaign against loose firearms of PRO-12 in all of the region's towns and cities is parallel with the "Oplan Galugad" of the Philippine National Police.
The Oplan Galugad is meant to curb the proliferation of unlicensed guns in all parts of the country.