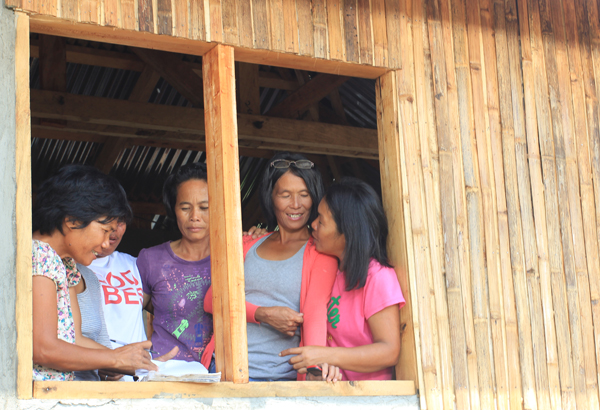 Rizaldy Mediavillo, NHA director for Samar-Leyte, confirmed during a joint hearing of two House committees the findings of a group of congressmen that one of the agency's contractors had used undersized steel bars. File
Yolanda housing projects substandard, NHA admits
Jess Diaz
(The Philippine Star) - October 10, 2017 - 4:00pm
MANILA, Philippines — Some housing units for victims of Super Typhoon Yolanda in Eastern Samar are substandard, National Housing Authority (NHA) officials admitted yesterday.
Rizaldy Mediavillo, NHA director for Samar-Leyte, confirmed during a joint hearing of two House committees the findings of a group of congressmen that one of the agency's contractors had used undersized steel bars.
"That was among the defects our site engineers discovered in the units built by JC Tayag Builders. We issued a memo in December 2016 and asked them to make rectifications," Mediavillo said.
He said the contractor has yet to comply with the memo.
The poor quality of housing units in Eastern Samar and Leyte was exposed last month when Reps. Ben Evardone of Eastern Samar and Alfredo Benitez of Negros Occidental filed a resolution seeking an inquiry.
Benitez heads the committee on housing and urban development, which is conducting the inquiry with the committee on good government and public accountability chaired by Surigao del Sur Rep. Johnny Pimentel.
Mediavillo said field engineers reported the defects to him, adding that he learned that a "site memo" was issued to contractor Juanito Tayag when the House inquiry started.
Tayag, for his part, said he was not aware of such memo.
Floilan Kampitan, NHA assistant general manager, said Tayag was asked to "show cause" why his contract with NHA amounting to P800 million should not be terminated.
NHA officials also admitted that Tayag was behind schedule by up to 82 percent in his projects in Eastern Samar.
"If it is true that the NHA called its contractor's attention to the defects in December, why is it that…after 10 months, you have not terminated the contract?" Benitez asked NHA officials.
"At the very least, you are negligent. If this is the way you are handling Yolanda housing projects, there is little hope for the victims to get their housing soon," he said.
Pimentel said a 15 percent slippage should prompt an agency to rescind a contract.
"Either you are negligent or in cahoots with your contractors. We will find that out," he told NHA officials.
A total of P46 billion has been released to the NHA for Yolanda housing units. Of the targeted 205,000 units, fewer than 24,000 have been built since November 2013. Only a few units have been occupied due to defects.