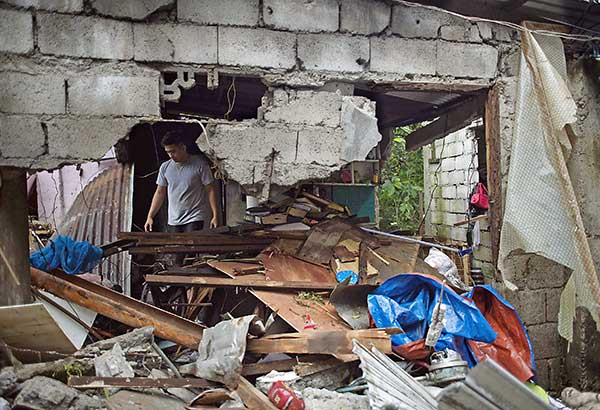 A man checks a house which was damaged when a water tank exploded in Barangay Muzon, San Jose del Monte, Bulacan on Friday. AFP
Sabotage ruled out in water tank blast
SAN JOSE DEL MONTE, Bulacan , Philippines — Police have ruled out sabotage as the cause of the explosion of a water tank in this town on Friday that left four persons dead and over 40 injured.
Explosives and ordnance division operatives found no trace of bomb materials on the debris of the collapsed water tank, Superintendent Fitz Macariola, city police chief told The STAR yesterday.
Macariola said probers are still collating the names of the officials who oversaw the construction of the water tank.
He said no case has been filed in connection with the incident as post-blast investigation is ongoing.
"We are now looking for experts who could provide analysis on the construction of the water tank and materials used," Macariola said.
He said at least nine houses, 10 apartments, 23 business establishments and a police community precinct were damaged in the explosion. Several vehicles are still being accounted for.
San Jose del Monte Mayor Arthur Robes has created a task force composed of representatives from the city engineer's office, police, Department of Public Works and Highways and the San Jose del Monte City Water District to investigate the incident.
San Jose del Monte Rep. Rida Robes said affected families would receive assistance for the repair of their houses.
City government funds will be augmented by the National Housing Authority and the city water district, the mayor said.