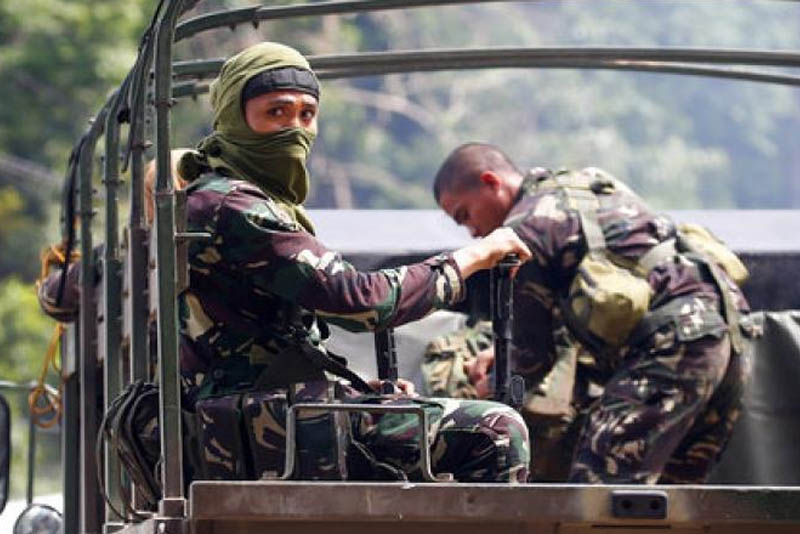 In this May 2017 photo, government soldiers on military vehicles patrol after a continued assault on fighters from the Maute group who have taken over large parts of Marawi Cty, Philippines. AP
Troops rescue 17 hostages from Maute
John Unson
(Philstar.com) - October 4, 2017 - 11:50am
LANAO DEL SUR — State forces succeeded in rescuing 17 hostages of the terror network led by the Maute brothers in conflict-stricken Marawi City on Wednesday.
Lt. Gen. Carlito Galvez, Jr. of the Western Mindanao Command declined to give details on how the 17 hostages were rescued, hinting that operations are still underway to rescue many other captives terrorists are using as shields to prevent soldiers from closing in.
Police officials in Marawi City said the terrorists guarding the 17 hostages scampered away when they sensed that soldiers have surrounded their position.
Four Maute gunmen were killed in the gunfight that preceded the rescue of the 17 hostages, sources from the provincial government of Lanao del Sur said.
Five of the 17 hostages rescued by soldiers before dawn Wednesday from the Maute terror group are teachers in the Dansalan College in Marawi City.
Senior officials of the Department of Education told The STAR Wednesday they are grateful to security forces that rescued the teachers, now in undergoing tactical debriefing.
Officials of the Police Regional Office-Autonomous Region in Muslim Mindanao told the STAR that the hostages were rescued amid gunfights around the remaining area in Barangay Lumbac Marinaut in Marawi City where Maute gunmen are still holding out.
The five teachers were among more than 20 people abducted by Maute terrorists who stormed the Dansalan College campus on May 23 as they laid siege to Marawi City, sparking hostilities that have since dragged on.