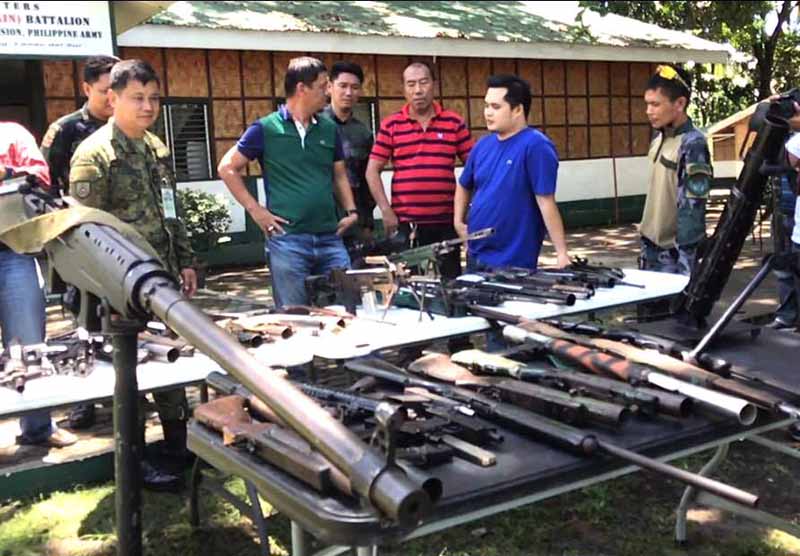 The 140 firearms are now in the custody of the Army's 6th Infantry Battalion based in Malabang, Lanao del Sur. John Unson
Lanao del Sur residents turn over 140 guns to Army
John Unson
(philstar.com) - October 3, 2017 - 5:48am
LANAO DEL SUR, Philippines — Residents in five Lanao del Sur towns surrendered 140 assorted firearms Monday in support of a disarmament program of the Philippine Army.
The firearms were comprised of M-16 assault rifles, launchers for B-40 anti-tank rockets, shotguns, replica .50 caliber Barret rifles, M1 Garand and Carbine rifles and 40-millimeter grenade launchers.
Local executives in Lanao del Sur's adjoining Kapatagan, Malabang, Picong and Marogong towns turned over the firearms they collected from their constituents to officials of the Army's 6th Infantry Battalion and the 603rd Infantry Brigade in a simple rite Tuesday.
Major Gen. Arnel Dela Vega of the Army's 6th Infantry Division said he is thankful to the local government units in the four towns for supporting the joint disarmament campaign of the 6th IB, which is under the 603rd Infantry Brigade.
The program was planned by officials of both units on recommendation of Lt. Gen. Carlito Galvez, Jr., commander of the Western Mindanao Command.
Galvez has jurisdiction over military units in central Mindanao, in Marawi City and in Lanao del Sur.
Dela Vega said they are expecting more surrenders soon of firearms by residents in towns being secured by personnel of the 6th IB.