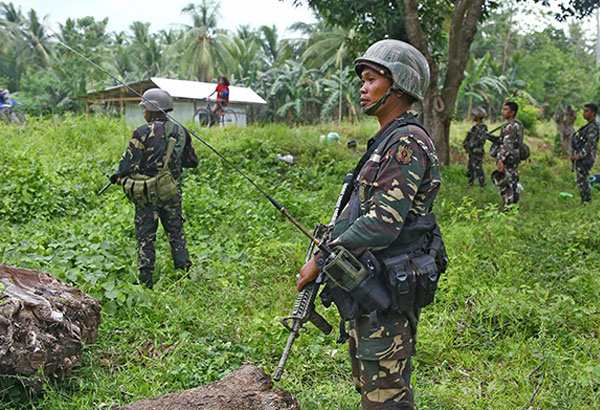 Lt. Col. Harold Argamosa of the 39th Infantry Battalion told The STAR on Monday that Gawelan also turned over his M-16 assault rifle. AFP, file
NPA commander surrenders in North Cotabato
John Unson
(philstar.com) - October 2, 2017 - 2:41am
NORTH COTABATO, Philippines — A senior commander of the New People's Army whose group figured in deadly clashes with state forces in recent months surrendered on Sunday.
Alex Gawelan, most known as "Banate," yielded to the Army's 39th Infantry Battalion in a clandestine meeting in Arakan town in North Cotabato that Lumad elders and local officials brokered.
Lt. Col. Harold Argamosa of the 39th Infantry Battalion told The STAR on Monday that Gawelan also turned over his M-16 assault rifle.
Gawelan and his men operated in the forests of Bukidnon and North Cotabato provinces.
"The 39th IB is thankful to the elected and traditional leaders in North Cotabato who helped convince him to return to the fold of law," Argamosa said.
The 38-year-old Gawelan told reporters he decided to surrender after realizing that the NPA has evolved from an organization fighting for the rights of Filipinos into an abusive group of rogue gunmen extorting money from hapless victims.
Gawelan also assailed the NPAs wanton use of victim–activated improvised explosive devices, such as booby traps and landmines, against villagers suspected of conniving with the military or for refusing to pay "protection money".
The NPA has repeatedly insisted that it only uses command-detonated explosives.
"The NPA says it is fighting for human rights but uses outlawed armaments against unarmed targets," Gawelan said in Bisaya.
Gawelan is a commander in the Sentro De Gravidad group of the NPA's Guerilla Front 53, whose members were behind last month's series of attacks in North Cotabato's Arakan, President Roxas and Magpet towns.
He also warned of a plan by the NPA to abduct more police and military personnel as show of force.
"The good treatment of captives and their release through negotiations are all meant to attract attention. All but propaganda," Gawelan said.
Argamosa said they will help link Gawelan to government agencies that provide humanitarian assistance to rebels who have pledged allegiance to the Philippine flag to ease their return to mainstream society.
The NPA has been waging what it calls a protracted people's war since 1969 to put up a revolutionary government.
It believes that the Philippines remains underdeveloped because of imperialism — particularly by the US — feudalism in the countryside, and "bureaucrat capitalism," or the use of government resources and structures by the ruling class to enrich themselves.