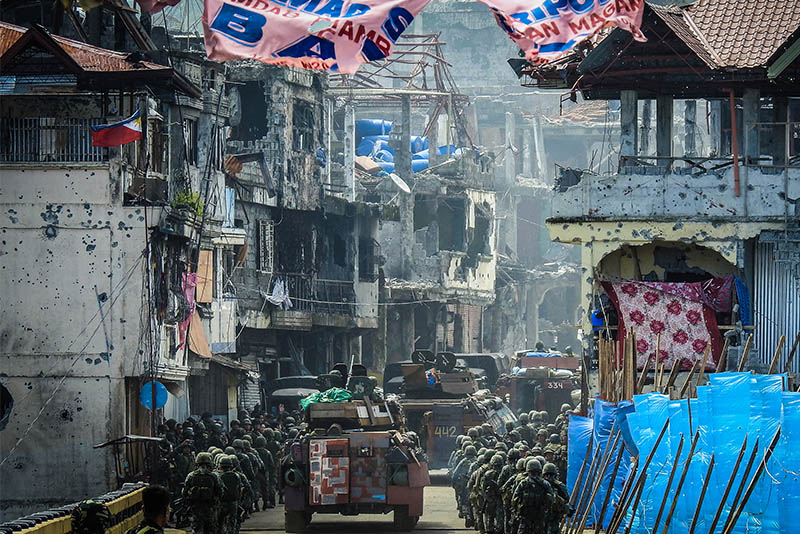 Philippine Marines, marching in formation alongside armoured personnel carriers, head to the frontline past damaged buildings in the Mapandi area of Marawi on the southern island of Mindanao on Aug. 30, 2017. AFP/Ferdinandh Cabrera
Government loses 2 more soldiers in Marawi
John Unson
(philstar.com) - September 30, 2017 - 10:04am
LANAO DEL SUR — Maute gunmen killed two soldiers in clashes Friday as government forces maneuvered through streets in a four-block spot in Marawi City where remnants of the group are still holding out.
Lt. Gen. Carlito Galvez, Jr. of the Western Mindanao Command on Saturday told The STAR via mobile phone that two soldiers were killed in skirmishes Friday with Maute terrorists being flushed out from a small patch of area they still control.
At least 155 government combatants were killed in combat with terrorists in Marawi City since May 23, the day combined members of the Maute terror group and the Abu Sayyaf laid siege to more than a dozen barangays there, sparking hostilities that have since dragged on.
One of the two fatalities in Friday's series of encounters in Marawi City, Private 1st Class Arth Manalang, belonged to the 5th Scout Ranger Company of the Philippine Army's 2nd Scout Ranger Battalion.
Manalang of Antique province and his companions were to clear abandoned buildings where Maute terrorists were sighted early on when they were attacked, sparking an encounter that resulted in his death and another ranger.
Galvez said security units trying to restore normalcy in Marawi City can possibly accomplish their mission "in the next few days," an assessment premised on calculations of the span of remaining areas still be cleared.
Key sources from the Lanao del Sur provincial peace and order council told The STAR Saturday that no fewer than 17 Maute terrorists perished in Friday's gunfights in Marawi City.
"Four of them are from Butig, all related to Omar and Abdullah," said a senior member of the council, referring to siblings Omar and Abdullah Maute, founders of the Maute terror group.
Two of the 17 Maute fatalities were adolescents named Ekram Padah and Subair Makud, one of the PPOC officials said.