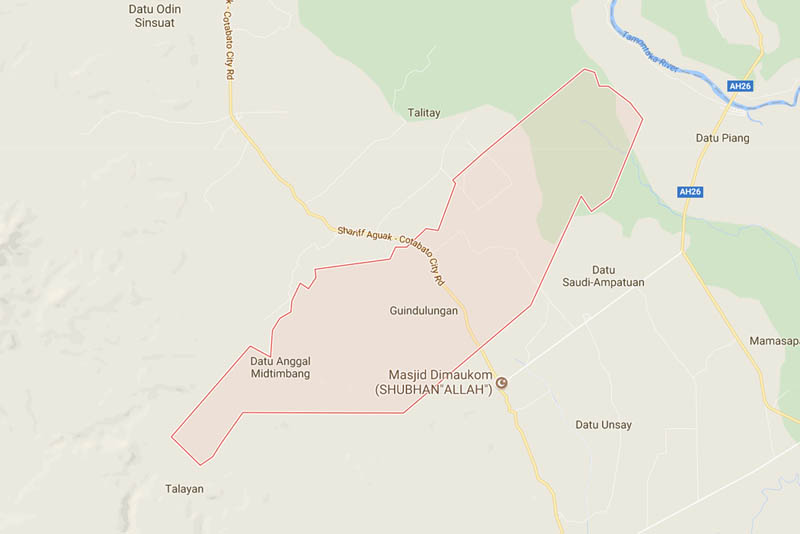 An IED was left along a stretch of a highway near the Tambunan Bridge in Barangay Tambunan of Guindulungan, Maguindanao.
Bomb with nails goes off; BIFF hand suspected
John Unson
(Philstar.com) - September 30, 2017 - 9:09am
MAGUINDANAO — A roadside bomb packed with nails prematurely exploded near a bridge in Guindulungan town late Friday, causing panic among local residents.
Responding investigators said there were indications that the improvised explosive device was planted by militants whose central enclave in Barangay Tee in Salibo, Maguindanao was taken over by the Moro Islamic Liberation Front Wednesday in an offensive assisted by the Army's 6th Infantry Division.
Senior Superintendent Agustin Tello, director of the Maguindanao provincial police, said the IED was left along a stretch of a highway near the Tambunan Bridge in Barangay Tambunan, seat of the Guindulungan municipal government.
"By the looks of it, there was premature explosion. There is strong possibility that the IED was set to explode Saturday morning while public conveyances are passing through," Tello said.
He said no one was hurt in the blast, which caused panic among villagers residing in houses not too distant from the scene of the explosion.
The incident was preceded by Wednesday's fall of the camp in Barangay Tee of the group led by Esmael Abdulmalik following seven weeks of hostilities with pursuing MILF forces in Maguindanao's adjoining Salibo, Datu Piang and Sharif Saidona towns.
Abdulmalik is leader of a third faction in the outlawed Bangsamoro Islamic Freedom Fighters that uses the flag of the Islamic State of Iraq and Syria as revolutionary banner.
"We are expecting more vengeful attacks by this group whose camp in Barangay Tee was reclaimed by the MILF last Wednesday," said Lt. Col. Gerry Besana, spokesman of the Army-led anti-terror Task Force Central.
The enclave established in Barangay Tee by Abdulmalik, a religious extremist, was the largest among six, all occupied now by members of the MILF's Task Force Ittihad.
The task force started its campaign to neutralize the group of Abdulmalik last August 2 for attempting to hoist the ISIS flag on strategic sites in MILF enclaves recognized as "peace zones" by the national government.
Local executives and security officials have recommended an extensive spiritual reorientation of residents in areas jointly reclaimed by the MILF and the 6th ID from the group of Abdulmalik.
Maguindanao Gov. Esmael Mangudadatu said said last Friday he is ready to help in the spiritual rehabilitation of villagers in barangays where Abdulmalik and his men operated after they established a third BIFF faction in November 2016.
"We have moderate, non-violent Islamic theologians around who can help us usher the affected villagers back to the fold of genuine Islam that is all about peace, respect for life and respect for people with different religions," Mangudadatu said.
Abdulmalik, himself a cleric, and many of his followers, mostly Imams, are eloquent in espousing hatred for non-Muslims.

"Their claim of religious persecution is easy to correct and disprove. Nowhere in any part of the country can we find Muslims being banned from going to mosques during Fridays and from airing the adhan (call to prayer) five times a day using a public address system," Mangudadatu said.
Army teams that inspected the last bastion of Abdulmalik's group in Barangay Tee, Salibo that the MILF occupied on Wednesday found there four powerful IEDs, two M-14 rifles, an M-16 rifle and an ISIS flag left by militants as they fled in haste.
Troops also found there graves of militants killed in skirmishes with combined MILF guerillas and soldiers in the past seven weeks.
Lt. Gen. Carlito Galvez, Jr. of the Western Mindanao Command also recommended on Friday a special religious program meant to reintroduce into mainstream society the villagers influenced by Abdulmalik's group.
Galvez, however, wants it spearheaded by local government units and peace-advocacy groups supporting Malacañang's diplomatic engagements with southern Moro sectors.
"We will support the effort as a peace-building partner, behind the LGUs for the initiative to become a domestic community-driven campaign versus violent religious extremism," Galvez said.
Galvez and Mangudadatu both lauded the MILF for driving away Abdulmalik and his followers from the barangays where they imposed a justice system villagers detested for being primitive and ruthless.