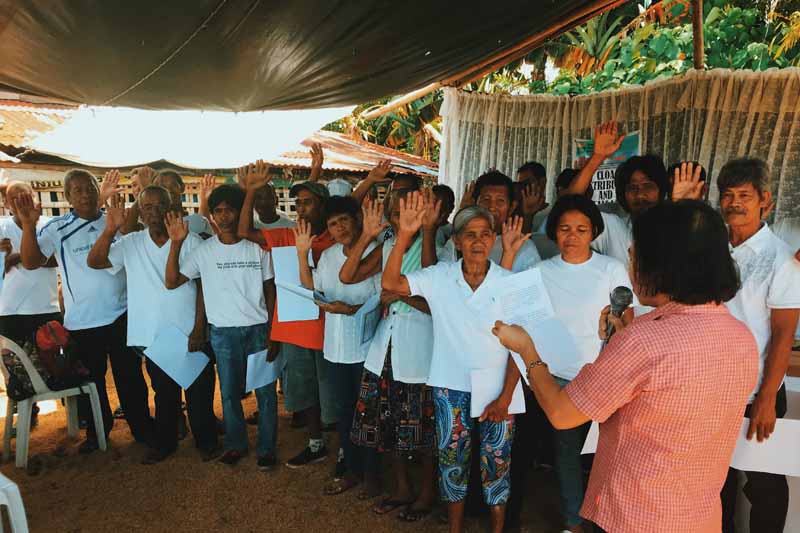 The beneficiaries plan to develop the land as a "block farming" sugarcane farm but worry about road access. Kaisahan handout
Negros Occidental sugarcane farmers get own land
(philstar.com) - September 28, 2017 - 5:44am
MANILA, Philippines — The Department of Agrarian Reform in Negros Occidental on Wednesday performed a ceremonial distribution and installation of 31 agrarian reform beneficiaries in Bago City, a land rights group there said.
According to Kaisahan, members of the Calumangan Yusay Farmers' Association were only ceremonially installed since the 16 hectares of land cannot be accessed without passing through land titled to the former landowners, the family of the late Felix Yusay.
The awarded land is part of 32.98 hectares covered by the Comprehensive Agrarian Reform Program.
"We can reach it by foot since there are narrow paths leading to the area," explained CAYFA member Freddie Candazo said in a Kaisahan release. "But the problem will be transporting our farm inputs and harvest."
The beneficiaries, who applied under the agrarian reform program in 2008, plan to develop the land as a sugarcane fare that the association will manage. Negotiations for road right of way among CAFYA, DAR and the Yusays are ongoing
Municipal Agrarian Reform Officer Melma Hortelano has promised to peform an actual installation — when agrarian reform beneficiaries take possession of titled land — once the negotiations are done.
The farmers are looking into sugar block farming — where smaller parcels of land are consolidated for better cost efficiency. Farmers retain ownership of their land.
The farmers are also considering applying for the Agrarian Production Credit Program and attending more technical training to help them run their farms better, Kaisahan said.
According to data Philstar.com requested from the DAR, a total of 22,085 farmers were given CLOAs between July 2016 and March 2017, with more recent field reports yet to be validated as of the data release. That accounts for around 21,088 hectares of land distributed.
In contrast, according to the same DAR data release, it distributed land to 30,107 ARBs in 2015.