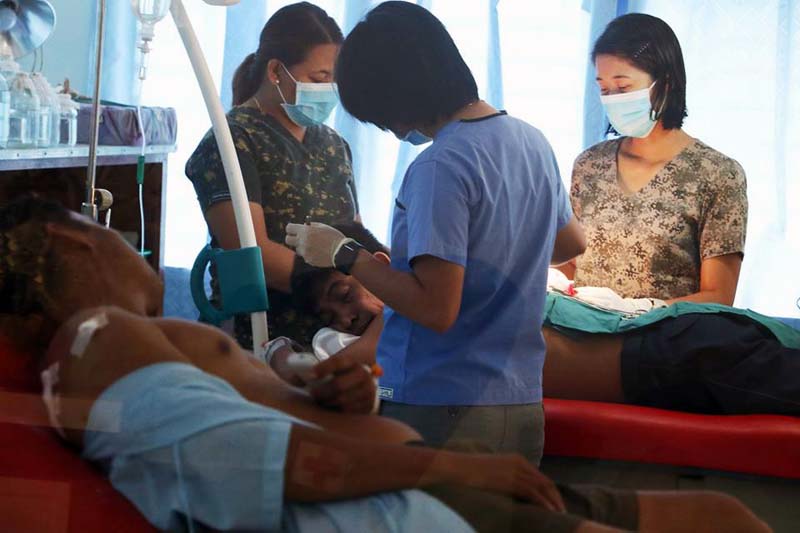 Personnel of the Camp Siongco Hospital attend to the victims of a bomb explosion in Datu Odin Sinsuat town on Wednesday. JOHN UNSON
4 hurt in blast near Army training center in Maguindanao
John Unson
(philstar.com) - September 27, 2017 - 6:52am
MAGUINDANAO, Philippines — A bomb blast near an Army training facility in Barangay Semba in Datu Odin Sinsuat, Maguindanao on Wednesday left four people injured.
The victims — Pendatun Sinsuat, Sinarimbo Lalaog, PO2 Bobby Guialani Pendililang and Army Sgt. Eddie Cane — sustained shrapnel wounds in different parts of their bodies.
Sinsuat, who is chairman of Barangay Semba, and barangay councilor Lalaog, were inspecting the scene of a powerful explosion past 7:00 a.m. on Wednesday along with Pendililang and Cane when another bomb went off.
The two improvised explosive devices were planted along a dirt road leading to a training school of the Army's 6th Infantry Division.
Chief Inspector Achmad Alibonga of the Datu Odin Sinsuat municipal police on Wednesday said investigators are still trying to determine who left the explosives along the road that Army vehicles pass through every day.
The four blast victims were rushed to an Army hospital in Camp Siongco in Barangay Awang, also in Datu Odin Sinsuat.
Capt. Arvin Encinas, public affairs chief of the 6th ID, said Army intelligence agents are now helping investigate on the incident.
Responding Army bomb experts said the two IEDs that exploded in Barangay Semba were fashioned from explosive powder packed with bent nails and pieces of cast iron with jagged edges.