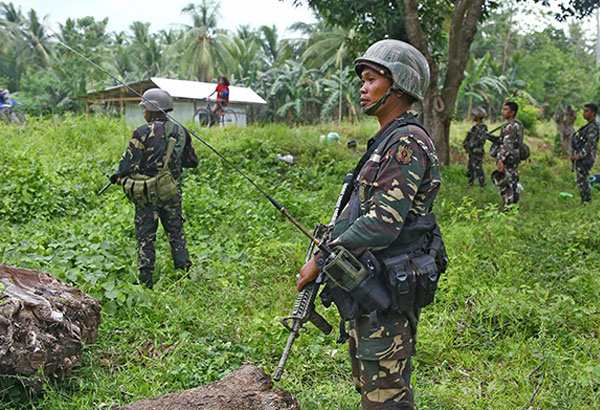 Personnel of the 39th IB are deployed in strategic areas in Magpet, Arakan and President Roxas to help the police maintain law and order in the local communities. AFP, file
Army on alert against NPA attacks in North Cotabato
John Unson
(philstar.com) - September 22, 2017 - 12:55am
NORTH COTABATO, Philippines — The military is on alert for retaliatory attacks by the New People's Army for losses in skirmishes with government forces the past three days in hinterland towns in North Cotabato.
The spate of clashes in the adjoining towns of Magpet, Arakan and President Roxas from Monday until late Thursday erupted when NPAs entered farming villages there, causing panic among residents.
Capt. Silver Belvis, spokesman of the Army's 39th Infantry Battalion, said on Friday that soldiers also foiled a plan by the NPAs to lay improvised explosive devices along farm trails in Barangay Balite in Magpet.
Personnel of the 39th IB are deployed in strategic areas in Magpet, Arakan and President Roxas to help the police maintain law and order in the local communities.
Soldiers and militiamen recovered about 15 kg of improvised explosive devices and booby traps from the NPAs they encountered in Barangay Balite, whose residents they subject to periodic collection of money and grain.
The explosives were left by the NPAs as they fled in haste carrying four wounded companions.
Another group of NPAs also fired at an Army detachment in Barangay Labuo in President Roxas late Thursday, sparking a gunfight.
Belvis said the NPAs tried, but failed, to breach the defense perimeter of the detachment when guards returned fire with assault rifles and grenades.
No one was hurt from among the soldiers and militiamen in the detachment but the bursts of automatic gunfire and explosions scared residents in nearby villages.
"We are anticipating more attacks by the NPA to retaliate for their slain and wounded companions," Belvis said.
Marauding NPAs killed Joel Batawan, a member of the Citizens Armed Forces Geographical Unit, in an ambush early Thursday in Barangay Santo Niño in Arakan.
The incident was preceded by a series of skirmishes in far-flung areas in the same town.
Batawan was on a motorcycle en route to Barangay Ganatan, Arakan along with a companion when NPAs positioned along the side of the road opened fire with assault rifles, killing him on the spot.
The militiaman's companion was wounded in the attack, according to Fred Toring, the barangay chairperson of Santo Niño.
Belvis said they are certain Batawan was ambushed by the NPAs to avenge the deaths of comrades killed in prior hostilities with government forces in Arakan and nearby towns.
Batawan was the second militiaman killed by NPAs in Arakan in a span of three days.
NPAs shot dead in an ambush last Tuesday an off-duty CAFGU member, Jeffrey Bitonio, in Barangay Anapolon, Arakan.
Bitonio was riding his motorcycle on his way home from their detachment when rebels blocked his path and shot him dead with assault rifles.
Bitonio was ambushed by rebels in a populated area.