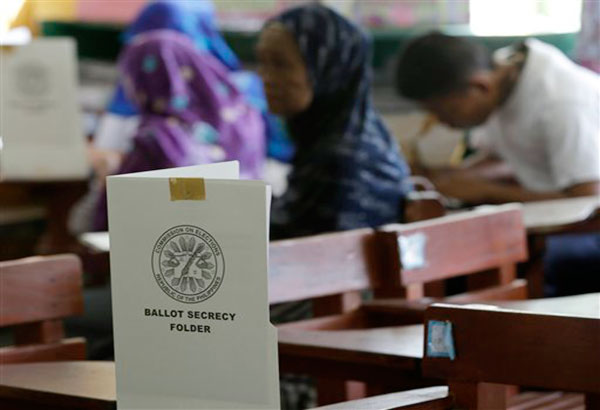 The senators issued the warning as the Senate committees on electoral reforms and finance released on Monday a joint committee report seeking to postpone the elections to October 2018 and authorizing President Duterte to appoint OICs to replace barangay officials on the drug watchlist. File
Appointing barangay OICs prelude to nationwide martial law — LP
(The Philippine Star) - September 13, 2017 - 4:00pm
MANILA, Philippines — The postponement of the barangay and Sangguniang Kabataan (SK) elections and appointment of officers-in-charge (OICs) can lead to the declaration of martial law nationwide, according to Liberal Party (LP) senators.
The senators issued the warning as the Senate committees on electoral reforms and finance released on Monday a joint committee report seeking to postpone the elections to October 2018 and authorizing President Duterte to appoint OICs to replace barangay officials on the drug watchlist.
Sen. Francis Pangilinan, LP president, said the proposal could not be viewed separately from recent developments in the country.
Pangilinan cited the P1,000 budget given by the House of Representatives to the Commission on Human Rights, extension of martial law in Mindanao, proliferation of fake news, burial of the late dictator Ferdinand Marcos at the Libingan ng mga Bayani and extrajudicial killings.
"These are all meant to erase our hard-won rights...to live in dignity and truth, choose our leaders and defend ourselves from abuse. What do you call these plans? Dictatorship," Pangilinan said.
He said barangay officials should remain on holdover capacity if ever elections are postponed.
Senate Minority Leader Franklin Drilon said postponing the elections would deprive the people of their constitutional right to choose their barangay leaders.
In a letter to the electoral reforms committee, detained Sen. Leila de Lima said she agreed with the position of the Institute for Political and Electoral Reform and National Citizens' Movement for Free Elections that "a free election affords us the possibility of replacing barangay officials perceived to be narco politicians, through democratic means."
Sen. Paolo Benigno Aquino IV said the SK polls should push through in October, noting that the implementation of the SK Reform Act is long overdue.