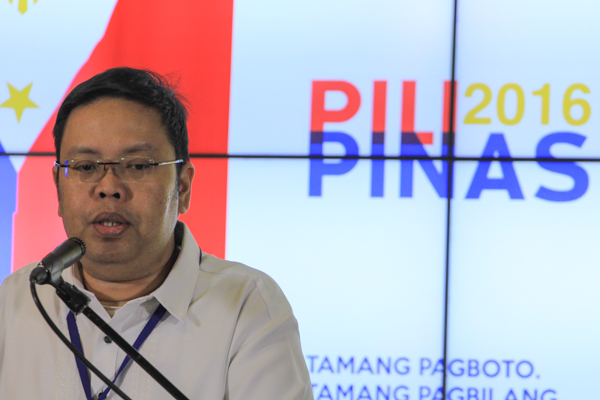 Commission on Elections (Comelec) spokesman James Jimenez said yesterday his office has been swamped with calls from prospective candidates as Congress moves closer to approving the measure postponing the elections. Philstar.com/Efigenio Toledo IV, File
Bets anxious on fate of barangay, SK polls
MANILA, Philippines — Prospective candidates are anxious about the fate of the barangay and Sangguniang Kabataan (SK) elections, which the Commission on Elections described as "half-in, half out."
Commission on Elections (Comelec) spokesman James Jimenez said yesterday his office has been swamped with calls from prospective candidates as Congress moves closer to approving the measure postponing the elections.
Jimenez said the common concern is on the printing of campaign materials, with only 10 days left before the filing of certificates of candidacy.
The House of Representatives approved on third and final reading on Monday a consolidated bill seeking to postpone the elections on Oct. 23 to May 2018.
At the Senate, the committee on electoral reforms endorsed the plenary approval of the bill postponing the elections to October next year.
"While these developments do not mean the barangay and SK elections have been postponed...(because) you need a law signed by the President for that to happen, it does move us closer to that outcome," Jimenez said.
He admitted that with only a little over a month before the elections, the approval of bills on the postponement "makes things complicated" for election stakeholders, particularly candidates.
Jimenez said the poll body is not stopping its preparations until the law postponing the elections is signed.
"There is no timetable for the Senate to come up with its version of the...bill. Despite the House version...the elections are still pushing through," he said.
No to barangay OICs
Meanwhile, the Senate minority bloc opposed the proposal to authorize President Duterte to designate officers-in-charge (OICs) to replace barangay officials on the drug watchlist.
Sen. Paolo Benigno Aquino IV said the people and not the President have the right to choose their barangay leaders.
"We stand firmly against appointing barangay officials and concentrating power in Malacañang," Aquino said."If there is fear of barangay officials involved in the drug trade, step up investigations, expose these criminals and bring them to justice."
If the President will insist on appointing OICs, Sen. Antonio Trillanes IV said Davao City Vice Mayor Paolo Duterte, whom he accused of being a member of the Chinese triad, should be the first to be replaced.
Sen. Richard Gordon, vice chairman of the electoral reforms committee, said the recommendation of community leaders and peace and order councils should be considered in appointing OICs.