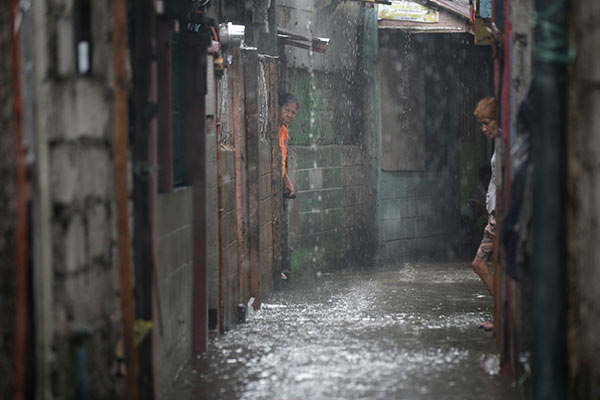 Residents look outside their homes as floods rise in Manila, Philippines on Tuesday, Sept. 12, 2017. Classes in schools and work in government offices have been suspended in the capital and nearby provinces as heavy rains pour causing floods in low-lying areas due to Tropical Depression "Maring." AP Photo/Aaron Favila
2 dead, 5 missing as 'Maring' dumps heavy rains
(philstar.com) - September 12, 2017 - 5:58am
MANILA, Philippines (UPDATED 2:48 p.m.) — A tropical depression has dumped heavy rains, flooding Metro Manila and nearby provinces and causing a landslide that killed two brothers.
Five other people remain missing after flash floods swept away a house beside a swollen river in Laguna, disaster relief officials said.
Disaster response official Elmer Espiritu said the brothers, aged 14 and 17, died when a landslide covered their home at the foot of a hill before dawn in Taytay town near Manila. Officials have ordered forced evacuation in risky areas after some residents refused to leave, he added.
PAGASA said Tropical Depression Maring made
landfall in eastern Quezon province
Tuesday morning, packing 60 kilometers per hour winds and gusts of up to 100 kph. It warned that continued moderate to heavy rains in Manila and nearby provinces along the cyclone's path may trigger flash floods and landslides.
In Laguna's Calamba town, flash floods swept away at least one house along the bank of the swollen San Cristobal River. Five people are missing, while eight others including five children were rescued, said disaster response official Noriel Habana.
Twenty-two passengers of a bus stranded in floodwaters were rescued in Quezon Province, officials said.
A stronger typhoon, "Talim," is located 865 kilometers east of the Philippines northern tip and is moving toward Taiwan and eastern China. PAGASA, however, said the typhoon is not directly affecting the Philippines.
Typhoon Talim is due to make landfall on Taiwan late Wednesday and officials there were especially concerned about the risk of mudslides in mountainous parts of the island. Taiwan's central government was contacting the heads of mountain villages, arranging free evacuations to shelters, monitoring rivers and mudslide-prone areas. — with reports from AP