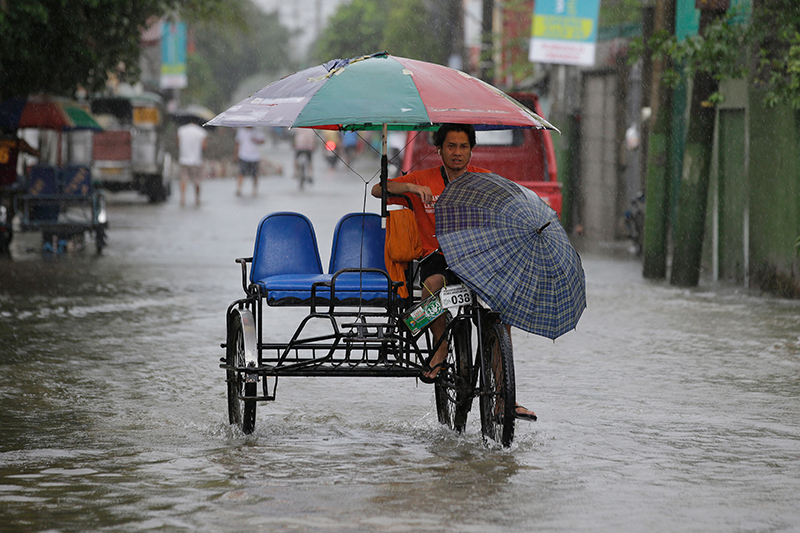 A pedicab driver navigates a flooded street caused by strong rains from a tropical storm locally named Gorio in the outskirts of Manila, Philippines on Wednesday July 26, 2017. Strong rains caused floods in low-lying areas and classes were suspended in most schools in the capital due to bad weather. AP/Aaron Favila
LIST: Flooded areas in Metro Manila, September 12
MANILA, Philippines (UPDATED 3:18 p.m.)— As two weather disturbances continue to prevail in the country, some areas experienced flooding on Tuesday.
The state weather bureau issued a yellow rainfall warning over Metro Manila, Cavite, Batangas, Quezon, Laguna, Rizal and Bulacan. PAGASA warned residents of flooding in low-lying areas.
It also said that Tropical Depression Maring may make a landfall in Aurora-Quezon area on Tuesday afternoon while Typhoon Lannie continues to head towards Batanes.
A number of schools, academic institutions, including the Malacañang already announced class and work suspension due to the bad weather.
Below appears the list of flooded areas in Metro Manila.
Manila

As of 2:40 p.m., R.Papa - Waist deep, Not passable to all types of vehicles

As of 2:05 p.m., Rizal Avenue Tomas Mapua - Tire deep

As of 2:05 p.m., Osmena Quirino to A. Linao - Knee deep

As of 2:05 p.m., Espana Antipolo - Knee deep

As of 2:05 p.m., Dela Fuente to Maceda - Gutter deep

As of 2:05 p.m., RMB Pureza - Above knee deep

As of 2:05 p.m., Romualdez to Taft - Not passable to light vehicles

As of 2:05 p.m., Bonifacio Drive to Roxas Katigbak - Not passable to light vehicles

As of 2:05 p.m., Manila City Hall - Waist deep

As of 2:05 p.m., Quirino P. Diao - Gutter deep

As of 2:05 p.m., F. Manalo to Blumentritt - Not passable to all vehicles

Quezon City

As of 2:40 p.m., EDSA Corinthian North Bound - Gutter deep

As of 2:40 p.m., Quezon Avenue Service Round North Bound - Knee deep, Not passable to light vehicles

Makati City

As of 1:05 p.m., Medina St. - Five-inches-deep, Passable to all vehicles

As of 1:05 p.m., Washington - Five-inches-deep, Passable to all vehicles

As of 1:05 p.m., Estrella to Chino Roces Avenue - Four-inches-deep, Passable to all vehicles

As of 1:07 p.m., Dela Rosa St., Barangay Pio Del Pilar St. - Not passable to all vehicles
Along EDSA
As of 2:40 p.m., EDSA Munoz Landers North Bound - Gutter deep

As of 2:40 p.m., EDSA Balintawak to NLEX Exit - Above Gutter level

As of 2:40 p.m., EDSA Oliveros Above Gutter

As of 2:05 p.m., EDSA Taft - Thigh Deep

As of 2:05 p.m., Roxas - Knee deep

As of 2:05 p.m., Santolan Service Road North Bound - Half-tire deep

As of 2:05 p.m., Camp Aguinaldo Gate 3 - Tire deep

As of 2:05 p.m., Shaw before Intersection North Bound - Gutter deep

As of 2:05 p.m., Ortigas Loading Bay South Bound - Gutter deep

As of 2:05 p.m., Magallanes MRT North Bound and South Bound - Knee deep
Along C5 Road
As of 2:05 p.m., Canley Road South bound - Above knee deep
As of 2:05 p.m., Kalayaan Road South bound - Not passable to light vehicles
As of 2:05 p.m., Hypermart north bound and south bound - Above knee deep
As of 2:05 p.m., McKinleyy Hills south bound - Tire deep
Southern area
As of 2:05 p.m., Baclaran to Redemptorist - Knee deep

As of 2:05 p.m., Pascor drive - Knee deep

As of 2:05 p.m., SM Sucat - Not passable to all vehicles

As of 2:05 p.m., Osmena to Buendia - Waist deep

As of 2:05 p.m., South Super High Way Magallanes - Knee deep

As of 2:05 p.m., Villamore towards Magallanes - Thigh deep