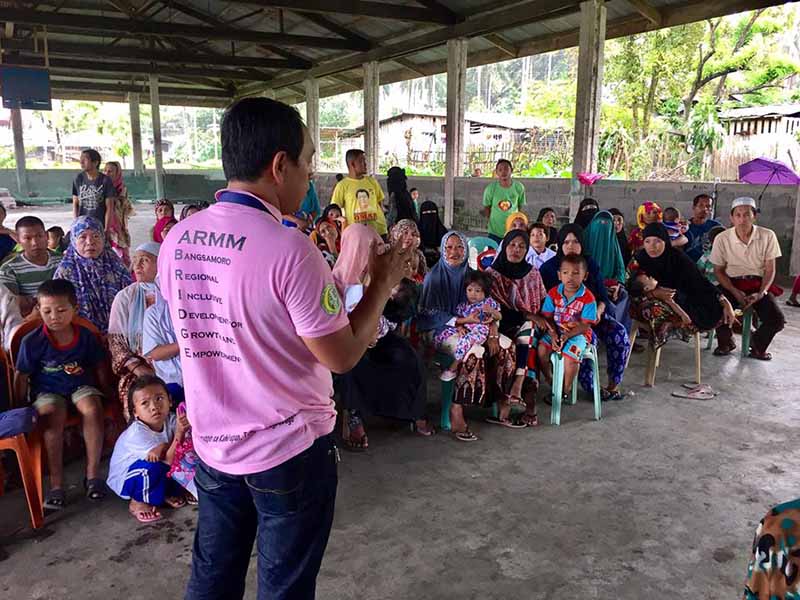 A lecturer teaches conflict-affected Maranaos how the ARMM-BRIDGE program can help address underdevelopment in target communities. Philstar.com/John Unson
New anti-poverty project launched in Lanao, Marawi
John Unson
(philstar.com) - September 9, 2017 - 10:56am
LANAO DEL SUR, Philippines — Officials are optimistic a government poverty alleviation project fit to the peculiar socio-economic settings in Moro areas will help restore normalcy in Lanao del Sur and in Marawi City.
The Bangsamoro Regional Inclusive Development for Growth and Empowerment (BRIDGE) Program of the Autonomous Region in Muslim Mindanao is a community-driven, anti-poverty initiative aimed at providing beneficiary-communities with water, sanitation, food, shelter and electricity.
Ten of the 39 towns in Lanao del Sur, whose capital is Marawi City, are ARMM-BRIDGE target areas.
The ARMM-BRIDGE is supported by different regional line agencies, among them the public works, health and social welfare departments under Regional Gov. Mujiv Hataman.
Hataman's public works secretary, engineer Don Loong, is directly involved in the implementation of the program in Lanao del Sur and in other provinces of the autonomous region.
The 10 Lanao del Sur towns benefiting from the ARMM-BRIDGE, Piagapo, Kapai, Lumba-Bayabao, Bacolod-Kalawi, Lumbayanague, Lumbaca-Unayan, Marogong, Butig, Sultan Damalundong and Sultan Gumander, are predominantly Maranao areas.
It was in Butig, a hinterland town in the first district of Lanao del Sur, where the Maute terror group first emerged in 2014, founded by siblings Omar and Abdullah Maute.
Regional officials are certain the "apat na dapat" focus of the ARMM-BRIDGE, the delivery of four basic needs in impoverished areas in the ten towns — water, food, power and shelter — will improve peace and order in the recipient-communities.
Violent religious extremists, or VREs, use poverty and underdevelopment as talking points in inciting public animosity to the government.
Radical Imams who speak for outlawed militant groups are eloquent in using poor governance as pitch in rallying people to support their religious cause.
The implementation of the ARMM-BRIDGE project in Lanao del Sur is not even halfway when Maute terrorists laid siege to Marawi City on May 23, sparking hostilities that have since dragged on.
Hataman said on Saturday that the regional government will maximize its implementation of the ARMM-BRIDGE in Lanao del Sur to hasten the restoration of normalcy in the province, affected badly by the conflict in Marawi City.
A Maranao lawmaker, assemblyman Zia Alonto Adiong of the 24-seat ARMM Regional Assembly, said on Saturday that they will support the implementation of the ARMM-BRIDGE in the province.
"This program can help boost our efforts to address socio-economic problems brought about by the trouble in Marawi City," said Adiong, spokesman of the Lanao del Sur provincial crisis management committee.
The crisis committee, overseeing relief and rehabilitation thrusts for some 300,000 people displaced by the hostilities in Marawi City, is being assisted by the ARMM government's Humanitarian Emergency Assistance and Response Team.