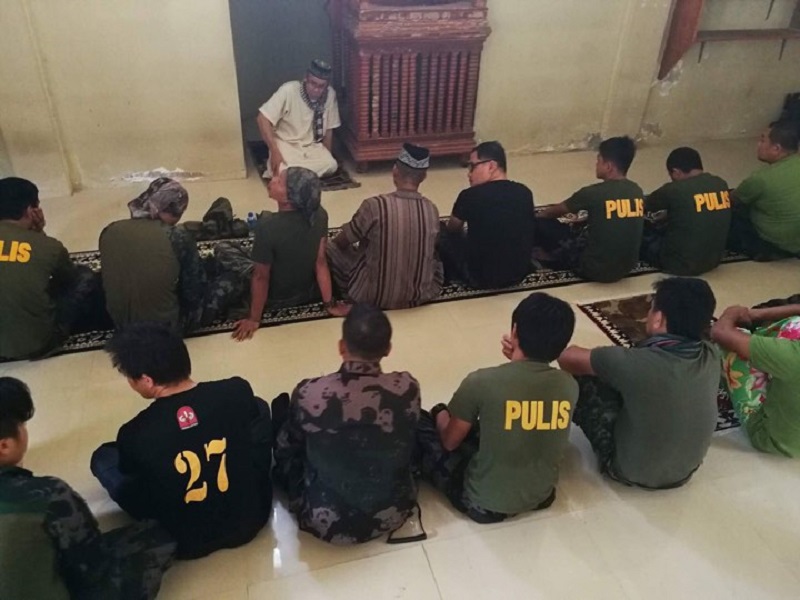 Policemen and soldiers prayed together on Friday at the Masjid Saad Huzam Almusairi in Marawi City after forcing Maute occupants out a week before. Courtesy of Capt. Jo-ann Petinglay/Westmincom
Police, soldiers pray in Marawi mosque retaken from Mautes
John Unson
(Philstar.com) - August 27, 2017 - 5:50am
LANAO DEL SUR, Philippines — Marawi residents were fascinated witnessing Muslim soldiers and police officers perform a Friday prayer rite in one of the mosques that Maute terrorists occupied for weeks.
The voices of 23 worshipers reverberated loudly through the Masjid Saad Huzam Almusairi in Lilod, Marawi City when they prayed in Arabic while their Christian companions were positioned outside to protect them.
Assemblyman Zia Alonto Adiong of the Autonomous Region in Muslim Mindanao said on Sunday that the first ever Jumaah worship rite at the Masjid Saad since May 23 inspired them more to continue working for the restoration of normalcy in Marawi City.
Adiong is spokesman of the provincial crisis management committee under the office of the governor in Lanao del Sur, whose capital is Marawi City.
What was fascinating for residents were the stories purporting that Christian police officers and soldiers helped clean the worship site and secure its surroundings after its Maute occupants left the week before.
"That again was a tacit indication that the conflict here is not a conflict among Muslims and Christians. It is these two groups that are working together to restore law and order in Marawi City," Adiong said.
Moderate Muslims from Marawi City now confined in evacuation sites told reporters they were elated with Friday's Jumaah worship rite in Masjid Saad.
Maranao datu Norodin Alonto Lucman, son of the late Lanao del Sur Rep. Rashid Lucman, said on Sunday that it is forbidden for Muslims to use mosques as launching sites for activities harmful to Muslims and non-Muslims.
He said mosques, in fact, can be offered as sanctuaries for people affected by crisis or calamity, regardless of their religion or race.
Lucman studied Islam and Arab cultures in Saudi Arabia where his family sought asylum in the 1970s to escape from political persecution by then President Ferdinand Marcos.
He said there is nothing wrong with Christian police and soldiers helping secure the Masjid Saad just for congregational prayers there to resume.
Chief Superintendent Reuben Theodore Sindac, director of Police Regional Office-ARMM, said the Friday Jumaah rite at Masjid Saad was led by Lanao del Sur's provincial police director, Superintendent Ebra Moxsir, a moderate Islamic theologian.
"We are glad that the mosque had been reopened," Sindac said.
Combined Maute terrorists and Abu Sayyaf gunmen occupied more than a dozen mosques in Marawi City when they laid siege to strategic spots there on May 23, sparking hostilities that have since dragged on.
There have been harrowing stories by evacuees on how Maute terrorists tortured male captives and raped women hostages inside mosques.
Evacuee Fatimah Bantugan, a mother of three, said on Sunday that she is happy to learn from other evacuees in relief sites in Saguiaran, Lanao del Sur that Masjid Saad had been cleared from occupation by Maute terrorists.
"For me it is a hallowed ground. I grew up performing Friday noontime prayers there. It was hurting to see our fellow Maranaos, the members of the Maute, abuse the sanctity of that mosque," she said in Filipino.
Public school teachers from Marawi City now operating temporary learning sites in safe areas for displaced school children said they did not believe that Masjid Saad had been reopened until they saw on Facebook the photos of police and soldiers praying there.
Lt. Gen. Carlito Galvez, Jr., commander of the Western Mindanao Command, said he is thankful to the soldiers and police involved in the takeover of Masjid Saad from Maute gunmen.
"It was a concerted effort of Muslim and Christian personnel of the Armed Forces of the Philippines and the ARMM police," Galvez said.
He said Muslim soldiers in Marawi City are excused from security duties on Fridays so they can participate in worship rites led by military Muslim preachers.
"I am also thankful to the Muslim and Christian soldiers and policemen who placed their lives on the line to clear that mosque from terrorists," Galvez said.