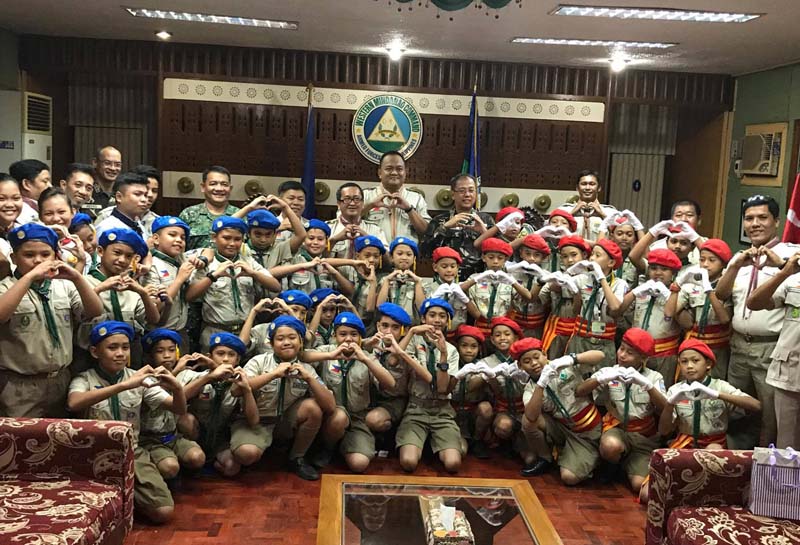 Western Mindanao Command handout shows members of the Boy Scouts of the Philippines Zamboanga Council and Lt. Gen. Carlito Galvez Jr. flash heart signs to show support for soldiers and police fighting terrorists in Marawi City. WESTMINCOM
Zamboanga City Boy Scouts send Marawi troops letters, chocolates
ZAMBOANGA CITY, Philippines — Inspired by the patriotism and bravery, members of the Boy Scouts of the Philippines Zamboanga Council turned over letters and chocolates to boost the morale of soldiers fighting against terrorists in Marawi City.
The scouts, led by BSP Zamboanga Council chairman Jose Rizalino Ortega, turned over the letters and chocolates collected from among the scouts during a courtesy call Tuesday on Lt. Gen. Carlito Galvez Jr., chief of the Western Mindanao Command (Westmincom), at the command's headquarters in Camp Navarro in this city.
Ortega said the letters and chocolates were collected through the "Muchisimias Gracias Por Tu Servicio Program" (Chavacano for "Thank very much for your service") of the Boy Scouts, that was launched through its Council Memorandum No. 7 to support the troops in Marawi.
About 40 scouts, students of Baliwasan Central School and Southcom Elementary School, along with City Councilor Rommel Agan, as local council executive board, joined Ortega in the courtesy call and turnover rites.
Ortega said the program is meant to not only to show the scouts' appreciation for the service of the soldiers and police officers "but also to start a nationwide advocacy for utmost respect to these special breed of men and women whose patriotism, gallantry, and service to our country are beyond reproach."
"We shall build a lasting attitude among Filipinos of extending a high level of courtesy to our men and women in uniform," Ortega said.
The scouting movement was founded by Robert Baden-Powell, a lieutenant general of the British Army, who initially wanted to teach children observation and fieldcraft.
"During World War II, scouts undertook many service tasks – messengers, firewatchers, stretcher-bearers, salvage collectors and so on," the Boy Scouts of the Philippines said on its website.
It also said the first Filipino troop of Boy Scouts was formed in Zamboanga on November 15, 1914.
Galvez expressed his deep appreciation and gratitude to the BSP on behalf of Joint Task Force Marawi.
He said the support will continue to motivate the military and police personnel fighting against the Islamic State-inspired Maute and Abu Sayyaf groups in Marawi.
Galvez said he would personally bring the gifts, art and letters to his soldiers on the ground in Marawi.
"This will surely bring renewed strength and vigor to them," Galvez said.
"It is very heartwarming that at a young age, these boys already appreciate chivalry and patriotism. From the bottom of our hearts, thank you so much to the future leaders of our society," Galvez added.