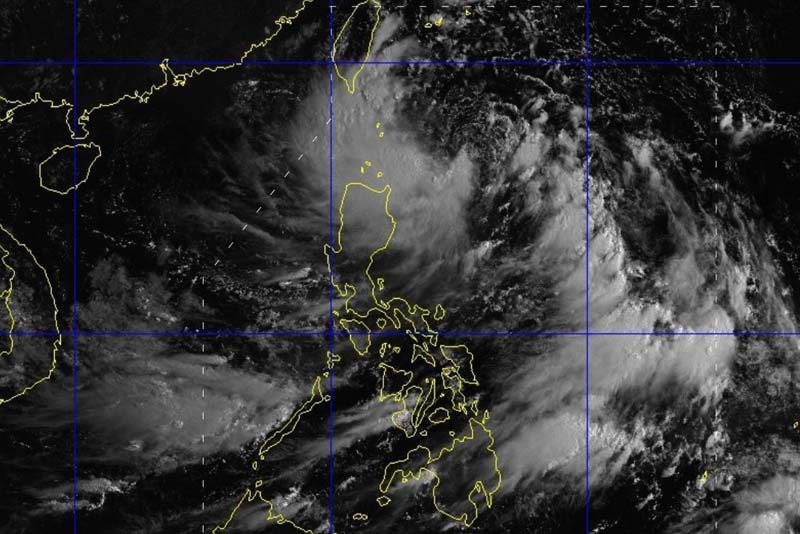 The Philippine weather agency placed Batanes under storm signal 1 as "Isang" continues to move in west northwestward direction in the country's northern. PAGASA/Released
Batanes under Signal No. 2 as Isang spawns rains
MANILA, Philippines — Tropical signals were hoisted over Batanes Islands and Babuyan Group of Islands on Monday as Tropical Storm Isang continues to cut its path in the northern part of the country.
According to state weather bureau PAGASA, Isang continues to move in a west northwestward direction, packing maximum sustained winds of up to 65 kilometers per hour near the center and gustiness of up to 80 kilometers per hour.
"At 7:00 AM today, the center of Tropical Storm 'Isang' was estimated based on all available data at 275 kilometers east of Basco, Batanes," PAGASA said in its bulletin released at 8 a.m. today, adding that it is expected to move west northwest at 17 kph.
The weather agency placed Batanes Group of Islands under storm Signal Number 2, which means that 61 to 120 kph of winds is expected in 24 hours. The winds under this storm signal may also bring light to moderate damage to exposed communities.
Storm surges are also possible along coastal communities under this storm signal, according to the weather agency, while wave height in open seas is estimated between 4.1 to 14 meters.
Babuyan Group of Islands was meanwhile put under storm Signal 1, indicating that these areas may experience winds with strength of 30 to 60 kilometers per hour in the next 36 hours.
No storm surges along coastal communities are expected, according to the weather bureau, and wave height is between 1.25 to 4 meters.
The weather system is also expected to spawn light to moderate showers and occasionally have rains over Metro Manila, Central Luzon, CALABARZON, MIMAROPA, Bicol and Visayas as it is expected to enhance the southwest monsoon or habagat.
Isang's rainfall amount is moderate to occasionally heavy within its 300-kilometer diameter.
The weather system is expected to be 180 kilometers west of Basco, Batanes tomorrow morning and 610 kilometers west of Basco, outside of the Philippine Area of Responsibility, on Wednesday morning.
On Thursday, it is forecast to be 1,345 kilometers west of Basco.