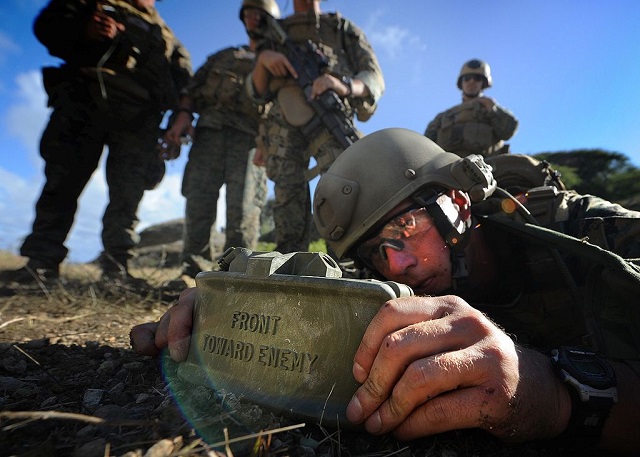 US Marine Sgt. Anthony Jacks of the US 11th Marine Expeditionary Unit, emplaces a Claymore mine during a live-fire exercise. Sgt. Scott Biscuiti/USMC, file
Police find land mines in South Cotabato farm
John Unson
(philstar.com) - August 13, 2017 - 3:30am
SOUTH COTABATO , Philippines — Municipal police recovered on Saturday three Claymore mines hidden in a farm in Banga town in South Cotabato.
Superintendent Romeo Galgo, Jr., spokesman of Police Regional Office-12, said on Sunday that personnel of the Banga municipal police promptly disposed of the explosives with the help of explosive ordnance disposal personnel.
Galgo, citing a report from Chief Inspector Jardi Mont Sibal of the Banga municipal police, said the Claymore mines belonged to New People's Army, which has a strong presence in remote areas of South Cotabato. The police did not elaborate on their basis for linking the mines to the NPA.
The M18 Claymore is a command-detonated anti-personnel mine developed for the US military.
It shoots hundreds of metal pellets towards a target when activated by a remote detonator.
Police said villagers found the mines piled in a shallow pit covered with soil and dried grass.
Galgo said PRO-12 is thankful to the vigilant barangay officials who immediately sought the help of the local police when they found the explosives.
Peace talks between the government and the Communist Party of the Philippines-New People's Army-National Democratic Front of the Philippines have broken down since July, but have not been formally canceled.
Back-channel talks scheduled for July in preparation for formal talks this month were scrapped after NPA attacks on government forces, including on a convoy of the Presidential Security Group passing through Cotabato province.
Talks have been on and off since February over the government's failure to release of political prisoners, continuing operations against the NPA, and the declaration of martial law in Mindanao in May.