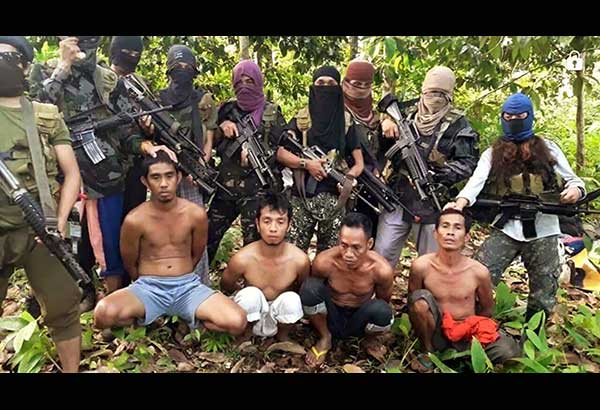 Four construction workers kidnapped in Patikul, Sulu last month are seen with their captors in this undated photo posted on the supposed Facebook account of the Abu Sayyaf.
3 kidnapped construction workers escape Abu Sayyaf in Sulu
ZAMBOANGA CITY, Philippines — Three of the four kidnapped construction workers escaped from the Abu Sayyaf group and were rescued Friday morning in a village of Talipao town, Sulu, according to officials.
Mayor Maria Isabelle Climaco-Salazar confirmed the recovery of the three victims. No further details were provided as the victims were kept by police in Sulu for debriefing.
The survivors were: Jason Pon Vailoces, Joel de Mesa Adanza and Filemon Francisco Guerrero Jr., said Brig. Gen. Cirilito Sobejana, commander of Joint Task Force Sulu.
The military could not yet ascertain the fate of the fourth victim, Edmundo Ramos, feared to have been recaptured by Abu Sayyaf militants.
The construction workers were seized by Abu Sayyaf gunmen last July 15 from their staff house at Kaumpang Elementary School in Patikul.
The escape came barely hours after the Abu Sayyaf group threatened to behead the victims Thursday if the government fails to pay the P3-million ransom.
Sobejana said the workers were recovered about 9 a.m. Friday when villagers noticed them in Barangay Kagay, Talipao town.
The village chief immediately alerted the police of the presence of the kidnapped victims.
Sobejana said the police with elements of the 21st Infantry Battalion and 2nd Special Forces Battalion rescued the victims and escorted them to the Sulu Provincial Police Office.
The workers revealed that the continuous military operations in the area forced the Abu Sayyaf group led by Almujer Yadah to move from one place to another away.
According to Sobejana, the victims narrated that their Abu Sayyaf captors were praying about 4 p.m. Thursday when they seized the opportunity to escape.
"They ran for their lives until they reached a community in Barangay Kagay early morning on Friday where the locals helped them and turned them over to the authorities," Sobejana said.
Sobejana said the rescued workers were provided with medical checkup and will undergo custodial debriefing at the Joint Task Force Sulu headquarters in Barangay Busbus, Jolo town before they will be reunited with their families in Zamboanga City.