Land mine kills MILF fighters in operation vs BIFF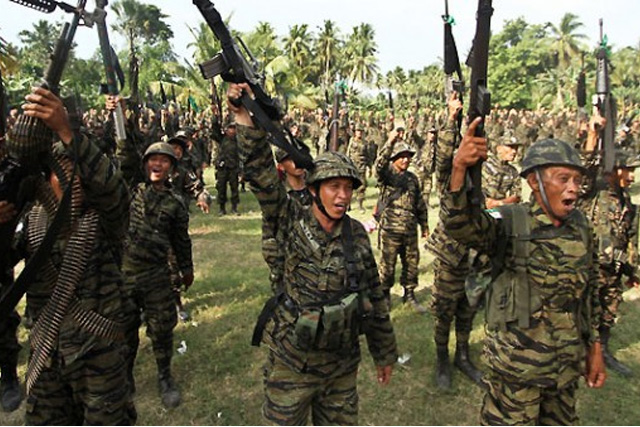 MAGUINDANAO, Philippines — Five Moro Islamic Liberation Front guerrillas were killed Sunday in a land mine blast while running after militants operating in the fashion of the Islamic State of Iraq and Syria.
The fatalities belong to a group in the MILF operating against ISIS-inspired militants in the second district of Maguindanao since last week.
The slain guerrillas and their companions were moving to surround members of a third faction in the Bangsamoro Islamic Freedom Fighters in Barangay Andavit in Datu Saudi Ampatuan tripped off an improvised explosive device.
Four BIFF militants were killed in an encounter Wednesday with pursuing MILF guerrillas in Barangay Pusaw in Sharif Saydona town also in Maguindanao.
Two MILF guerrillas were wounded in the gunfight. They were brought to a hospital in Cotabato City and are being assisted by the Army's 6th Infantry Division.
Lt. Col. Gerry Besana of the 6th Civil Military Operations Battalion, a component unit of 6th ID, told The STAR on Sunday that the five MILF fighters killed by an IED are followers of Commander Asrap.
Asrap is one of MILF commanders under Task Force Ittihad (Unity) now helping the police and the military neutralize BIFF bandits.
The MILF targeted on Wednesday a third bloc in the BIFF under Esmael Abdulmalik, trained in the fabrication of IEDs by slain Malaysian terrorist Zulkifli bin Hir, most known as Marwan.
Abdulmalik and his men display the black ISIS flag when they roam around to recruit members and collect money from farmer families in Maguindanao's adjoining Datu Saudi, Shariff Saydona, Salibo, Mamasapano and Datu Piang towns.
The IED used against members of the MILF's Task Force Ittihad had construction support bars, bent nails and fragments of cast iron with jagged edges.
Six guerrillas hurt in the land mine explosion were immediately rushed to a hospital by responding Army units based in nearby barangays. They have since been brought to Cotabato City for further treatment.
BIFF different from MILF
The outlawed BIFF was founded in 2010 by the late Imam Ameril Ombra Kato, who had studied Islamic theology in Saudi Arabia in the 1970s.
Kato started as a senior commander in the MILF, but bolted due to irreconcilable differences with its central committee.
He then organized the BIFF, which is radically militant and whose pioneer members were former MILF guerillas booted out for insubordination and criminal offenses.
The BIFF claimed allegiance to ISIS more than two years ago.
The BIFF is not covered by the July 1997 Agreement on General Cessation of Hostilities between the government and the MILF.
The security pact obliges the government and the MILF to cooperate in addressing peace and security issues in potential conflict flashpoint areas in the south.
One BIFF faction, under Imam Karialan, said last week that it has cut its ties with the group of Abdulmalik.
Karialan's group, in a statement, also emphasized that it is not hostile to other revolutionary organizations fighting for Moro self-determination.
BIFF insiders said the hasty announcement was a propaganda ploy precipitated by apprehensions on the MILF's anti-terror campaign in Maguindanao province.