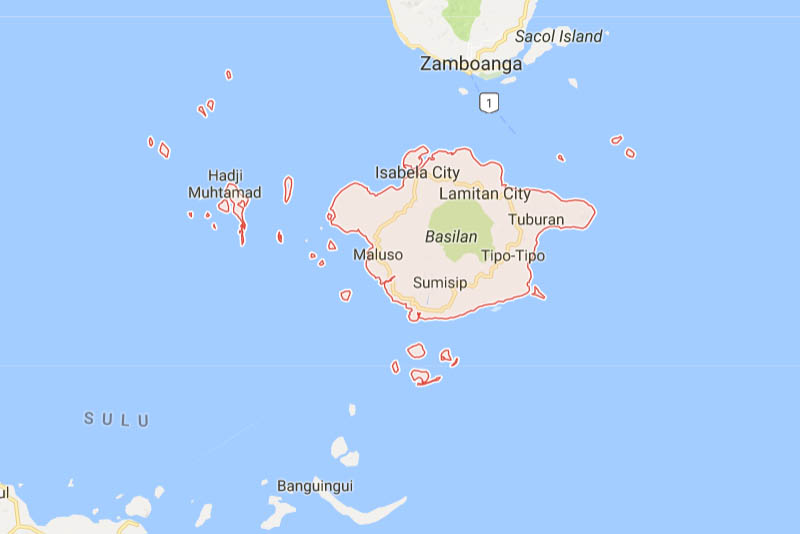 Bodies of the victims of beheading were recovered on the mountains of Basilan in the Sulu Archipelago, located at the southernmost tip of the Philippines. Google Maps
Bodies of 7 loggers beheaded by Abu Sayyaf recovered
ZAMBOANGA — Security forces recovered the remains of seven loggers who were beheaded by extremist group Abu Sayyaf on the mountains of Basilan, officials said.
The victims identified as Nestor Divinagrcia, 50, his son Ily, 25; Berto Lacastesantos, 48; Hernando Sally, 53; Renato Casiple Jr., 36; Rene Sanson, 28; and Mamerto Falcasantos, 55; were abducted last July 20 at Lower Mahayahay, Maluso town.
Police Senior Superintendent Nixon Muksan, Basilan Provincial Police director, said the victims' bodies were already in the state of decomposition when they were found late Saturday afternoon at Campo Barn, Barangay Switch Yakal, Lantawan.
Maluso Police Station commander Chief Inspector John Cundo and 14th Special Forces Company commander 2Lt. Tactay Panlaque led joint forces that recovered the remains of Divinagracia and his son around 3:30 p.m. on Saturday.
Muksan said the give other remains were recovered by the 15th Special Forces Battalion around 4 p.m. on Sunday.
The police and military said that the recovered bodies show that the victims were behaded and on the state of decomposition. They were only identified through their clothes by the families and relatives who went to the area with the authorities.
"It's an unfortunate incident the military did its best to rescue the victims," Col. Juvymax Uy, commander of the Joint Task Force Basilan.
Uy said the execution on the victims was a desperate move of the Abu Sayyaf, saying many of its followers have already surrendered.
The remains of the victims were taken to a local funeral parlor and were turned over to their respective families.