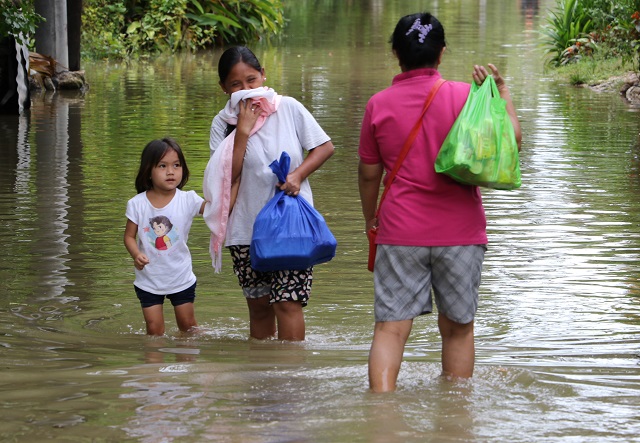 More than half of the 37 barangays in Cotabato City are now flooded after rivers nearby overflowed due to heavy rains. JOHN UNSON
Widespread flooding hits Cotabato City
John Unson
(Philstar.com) - July 23, 2017 - 4:27am
COTABATO CITY, Philippines — Flooding has affected four more barangays in Cotabato City the past three days, affecting more residents whose needs officials are now helping provide.
Latest reports from the City Disaster Risk Reduction and Management Council indicated that 24 of the city's 37 barangays are now flooded due to the continuous swelling of nearby rivers caused by heavy downpours in the mountains since last week.
Halima Satol-Ibrahim, city information officer, said on Sunday that, by July 21, the official count of flood-stricken residents rose to 18,684 families, or 91,537 individuals, from only more than 12,000 two days before.
City officials, led by Mayor Cynthia Guiani-Sayadi, toured the flooded barangays on Thursday for initial relief missions.
Satol-Ibrahim earlier said the city mayor's office and the Sangguniang Panlalawigan might put the city under a state of calamity if flooding continues to spread.
Rivers straddling Cotabato City started to overflow more than week ago, inundating 20 barangays first and affecting more than 12,000 residents.
The city's 37 barangays are crisscrossed by tributaries of the Rio Grande de Mindanao and many other large rivers that connect to the 220,000-hectare Liguasan Delta in the upper valley of central Mindanao.
The Liguasan Delta is a catch basin for rain-generated floodwaters from mountain ranges in North Cotabato, South Cotabato, Sultan Kudarat and Bukidnon provinces.
The office of Guiani-Sayadi and the City Schools Division of the Department of Education are planning to hold special classes on higher ground for children from schools in flooded barangays.
Satol-Ibrahim said 10 city schools have been affected.
The city has also deployed health workers to attend to flood victims now afflicted by common ailments.
Affected barangay folk have urged the Mindanao Development Authority, whose main office is in Davao City, to focus on the immediate dredging of rivers here from accumulated silt.
The MINDA has a flood control and management program for central Mindanao, but people in the region have perennially been ranting about not seeing the agency address the problem.
Guiani-Sayadi on Friday called on residents in flood-prone areas here to help monitor the levels of rivers in their surroundings and to immediately evacuate if necessary.
"Forced evacuations will be imposed if the situation so requires," Guiani-Sayadi said.