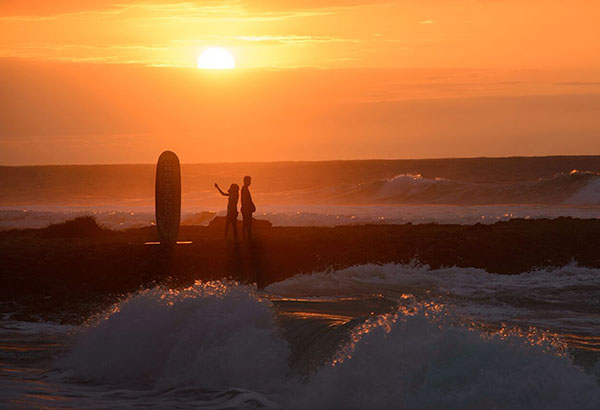 Surf at sunset: Two of the many reasons tourists visit La Union. File photo
La Union remains rebel free, regional peace council says
SAN FERNANDO CITY, Philippines — La Union is the only province in Ilocos region that is rebel-free, which provincial officials say has contributed to the growth of its economy and tourism.
The absence of the New People's Army in the province was reaffirmed at a Regional Peace and Order Council meeting this week that included Gov. Francisco Emmanuel Ortega III and representatives of the police and military units assigned to the region.
La Union was declared rebel-free on September 4, 2009.
Lt. Col. Julio Osias, commander of the 81st Infantry Battalion said the military is pushing to reaffirm the commitment of all stakeholders in maintaing the peace in La Union.
"All members of the RPOC are now committed to continue its efforts in bringing La Union Province more economic growth and development," he said.
Maj. Gen. Angelito De Leon, commander of the 7th Infantry Division, added "the continued support of the AFP to the province even after its declaration as insurgency-fee shows its dedication to serve the people beyond the threat."
He added "stakeholders shall continue to help addressing local issues that might be a potential or problem that the insurgents would want to exploit."
Osias added, "we will continue to support and secure La Union by mobilizing our resources to prevent resurgence of the protracted war of the communist terrorists."
The meeting was held the same week that the government canceled backchannel talks with the National Democratic Front of the Philippines panel over recent NPA attacks, notably on a convoy of the Presidential Security Group traveling through Cotabato province on July 19.
The Palace said that the clash happened when the PSG convoy noticed that around 50 NPA fighters manning a checkpoint were not government forces. Local police said the NPA were wearing Army uniforms.
"The NPA checkpoint was put up to interdict military and police vehicles carrying weapons plying the route as part of the NPA campaign in response to the CPP's call to fight martial law in Mindanao," the Communist Party of the Philippines said in a statement.