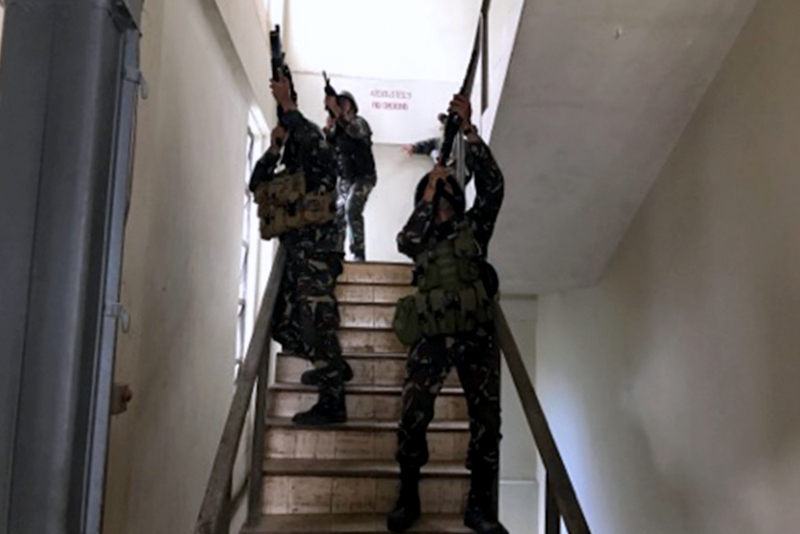 Soldiers search a building during a mock counter-terrorism maneuver in Tacurong City on Monday, June 26, 2017. STAR/John Unson
Central Mindanao seeks to replicate counter-terror combat drill
John Unson
(Philstar.com) - June 28, 2017 - 6:59am
TACURONG — Local officials in central Mindanao want the local counter-terrorism "bayanihan style" combat drill replicated in their cities and towns.
The mock security maneuver held Monday in a building at a busy area here was a joint initiative of the Army's 33rd Infantry Battalion, the inter-agency anti-crime Task Force Talakudong, the local police and the Tacurong City government.
Tacurong City is not too distant from towns with presence of the outlawed Bangsamoro Islamic Freedom Fighters (BIFF), blamed for more than 20 bombings that rocked the area since 2011.
The city is under Administrative Region 12, whose regional capital is Koronadal City, less than 40 kilometers away.
Maguindanao Gov. Esmael Mangudadatu, who has jurisdiction over 36 towns, said on Wednesday that he will recommend the conduct of similar counter-terrorism exercises in populated areas to educate the public on how to respond to attacks by terrorists.
Maguindanao is a component-province of the Autonomous Region in Muslim Mindanao.
"I will support that activity to the best I can. We need that in the wake of the security challenges besetting our communities now," said Mangudadatu, chairman of the multi-sectoral Maguindanao peace and order council.
The drill in Tacurong City last Monday was just a domestic initiative of local officials and Lt. Col. Harold Cabunoc, commanding officer of the Army's 33rd Infantry Battalion.
The unit is helping secure Tacurong City from lawless groups and outcast Islamic militants moderate and neutral Muslims detest for being irrational in their interpretation of teachings in the Qur'an.
The exercise involved combat vehicles, soldiers and policemen and emergency responders from the Tacurong City Disaster Risk Reduction Management Council.
The combat maneuver, assisted by barangay tanods and personnel from the Tacurong City traffic management unit, focused on urban terrain police and military operations.
Cabunoc said he just thought of initiating the drill to hasten the capability of his unit and the local police in addressing emergencies, triggered by incursions by terrorists, without compromising the safety of non-combatants in the surroundings.
The vice mayor of Shariff Aguak town in Maguindanao, Hadji Akmad Ampatuan, said he will ask the Army unit guarding his town and their local police force to also initiate such a drill in their municipal capital.
"It is essential to ensuring public safety. We also want that done here in our town," Ampatuan said.
Local officials in Pigcawayan town in North Cotabato said on Wednesday that they are just as interested in having such a counter-terrorism drill in their municipality.
It was barely a week ago when some 200 BIFF bandits attacked Barangays Malagakit and Simsiman in Pigcayawan and looted houses there as villages scampered away.
The incident displaced hundreds of families, some still languishing in makeshit evacuation sites.
North Cotabato Vice Gov. Shirlyn Macasarte-Villanueva, chairperson of the Sangguniang Panlalawigan, said she also favors the conduct in her province of security and disaster response exercises like what was held in Tacurong City.
"These are the kind of emergency drills we need for our people to know what to do in hostile situations," the vice governor said.
Cabunoc said all interested local executives may just have to coordinate with the commanders of Army brigades and battalions nearest to them if they wish to have simulated security drills.
"That is something military and police units will gladly and willingly extend to them in the spirit of service and love for country," Cabunoc said.