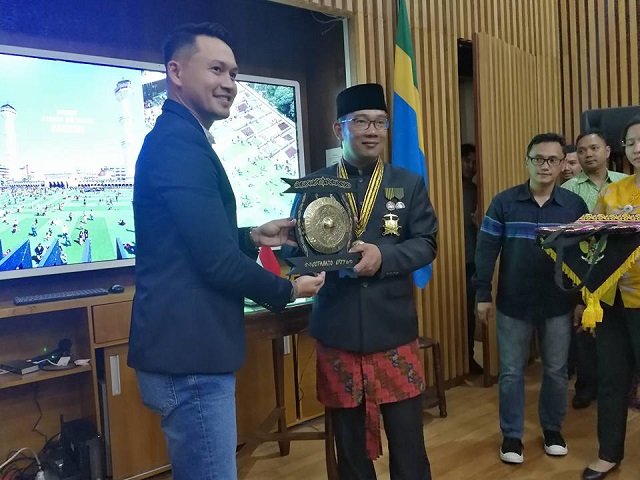 Cotabato City Vice Mayor Graham Dumama (left) and Mayor Ridwan Kamil of Bandung City in Indonesia sealed the newly-established friendship of their offices with an exchange of tokens during their meeting last week. Courtesy of Cotabato City Information Office
Cotabato City inks sisterhood pact with Bandung, Indonesia
COTABATO CITY, Philippines — Efforts to connect local communities to economic partners abroad got a boost with the crafting of a sisterhood pact between Cotabato City and Bandung, Indonesia.
Halima Satol-Ibrahim, chief information officer of the Cotabato City local government unit, said on Sunday that the agreement was signed last week by Vice Mayor Graham Dumama and Bandung City Mayor Ridwan Kamil.
The event was held at Bandung City, capital of West Java Province in Indonesia. Bandung is also known as the "Paris of Java" for being a big metropolis with extensive shopping destinations.
Dumama represented Cotabato City Mayor Cynthia Guiani-Sayadi in the engagement, organized by the office of Kamil.
Satol-Ibrahim, who was among city officials who witnessed the event, said Kamil sounded so optimistic of fruitful ties between Bandung and Cotabato City.
Kamil told city officials that he was fascinated with how Guiani-Sayadi has been maintaining law and order in communities under her jurisdiction.
Satol-Ibrahim quoted Kamil as saying that he admires how the mayor here is enforcing discipline among her constituents.
Guiani-Sayadi, a practicing lawyer, is popular for her iron-fisted stance in overseeing the city government's crime-prevention programs.
She leads joint police and military evening patrols in Cotabato City's 37 barangays as part of her hands-on involvement in weeding out criminals and groups posing threats to local sectors.
"I want Islam and modernization to go hand in hand that is why I am very happy when I learned about the mayor of Cotabato City being a woman leader. I want to know how she does it and maybe we can also do it here in Bandung," Kamil was quoted by Satol-Ibrahim as telling Dumama during their meeting.
The sisterhood pact between the cities of Cotabato and Bandung aims to promote cultural, trade and tourism ties between the Muslim and non-Muslim people in both areas.
Halima-Satol said the Cotabato City LGU assured Kamil it shall pursue the goals of the pact with utmost sincerity.
Dumama told Kamil during their engagement that Guiani-Sayadi looks forward to a strong socio-economic partnership with Bandung City.
"We look forward to a fruitful `sisterhood' with Bandung. Both cities have much in common especially when it comes to governance and I believe that we can both learn from each other further", Dumama told Kimal during their meeting.