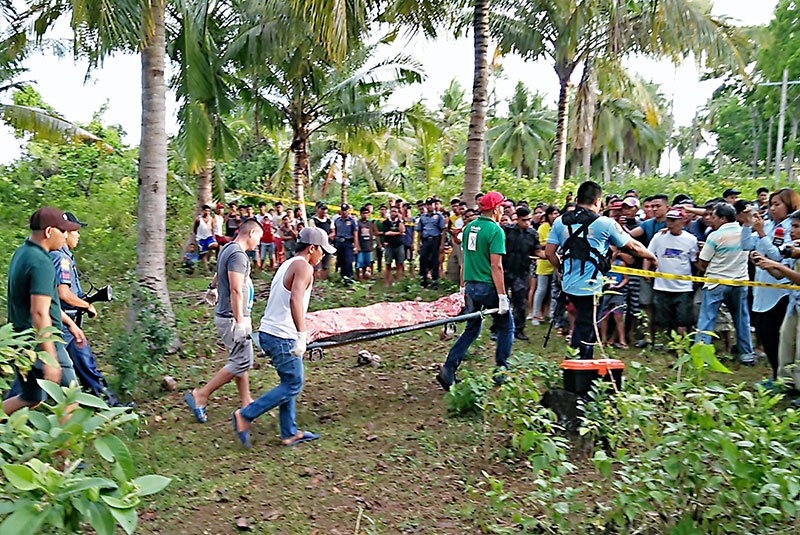 Police escort funeral parlor workers carrying the body of an Abu Sayyaf bandit who was killed in an encounter with government troops in Calape, Bohol on Monday. AFP
MANILA, Philippines - All Abu Sayyaf bandits who entered Bohol last month have been neutralized, according to the military.
Following the death of an alias Asis in a military offensive in Barangay Kahayag on Panggagan island at around 12:30 p.m. on Monday, his cohort died in pursuit operations in Calape town.
Government operatives finished off an alias Ubayda, who was wounded in the gunfight that killed Asis, in Sitio San Vicente, Barangay Lawis, at around 5:30 p.m. also on Monday. A caliber .45 pistol as well as ammunition were recovered from the fatality.
"I am happy to report that the remaining Abu Sayyaf members…were accounted for. Patay sila lahat (They are all dead)," President Duterte said upon his arrival at the Davao International Airport before dawn yesterday from his trips to Cambodia, Hong Kong and China.
Duterte said the fate of the bandits should serve as a lesson "to everybody who is interested to hear government."
The President earlier ordered security forces to produce the bandits who entered Bohol "dead or alive."
Lt. Gen. Oscar Lactao, Central Visayas Command chief and Balikatan director, said the reward offered by the President for the arrest of the bandits was a key factor in the success of the military operations. The President offered a reward of P1 million for each bandit.
"After one month and four days, Bohol is now Abu Say-yaf-free," Lactao said.
The bandits arrived on three boats in the province last month. Five, including sub-leader Muamar Askali, alias Abu Rami – who was reportedly involved in the beheading of two Canadians and a German hostage – were killed in a military offensive in Inabanga town on April 11. Four others were later killed in Clarin.
More than a week ago, Saad Samad Kiram, alias Abu Saad, was killed by his police escorts while allegedly trying to escape after his arrest in Barangay New Lourdes, Cortes. – With Jaime Laude, Edith Regalado