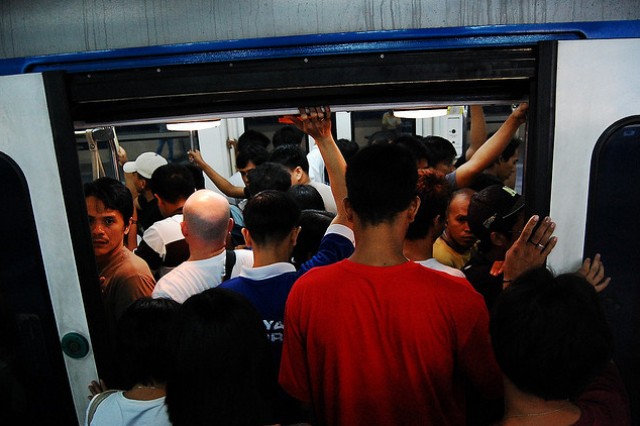 Male passengers push their way into a crowded Metro Rail Transit 3 train along EDSA, a major thoroughfare in Metro Manila. Jong Pairez/ CC BY-NC-SA
Official to Senate: No more MRT queues by yearend
MANILA, Philippines — An official of the Metro Rail Transit 3 (MRT3) on Monday vowed before a Senate panel that passengers can expect no queues during their commute by the end of this year.
Asked by Senate Minority Leader Franklin Drilon when the long lines for passengers will be gone, MRT3 operations director Deo Leo Manalo, said there queues are only present during the morning and afternoon rush hours and have disappeared during the off-peak period from 9 a.m. to 5 p.m.
"By end of the year, sir, sigurado pong mawawala na 'yung pila," Manalo said at the Senate Committee on Public Services' hearing into issues hounding the train system.
More trains expected
According to Manalo, 20 trains are operating during peak hours along EDSA, a main thoroughfare in Metro Manila, daily. He said these trains could carry 17,000 passengers on one direction, reaching an estimated total of 500,000 passengers daily.
Manalo said that by June, two three-car Dalian trains will be added to during off-peak hours. By December a total of five three-car Dalian trains will be in operation.
These additional coaches will expand the train capacity to 200,000 and 300,000 passengers by April 2018 and 2019 respectively.
Just a wish list
Sen. Grace Poe, who chairs the Senate panel, said the projected timetable of MRT3 are mere wishes.
"So right now, these are all up in the air and are (a) wish list because for now, we still have the signaling system to test to make sure there's no feedback," the senator said.
Poe, who called for the Senate inquiry, earlier lamented recurring problems with the train system and expressed disappointment over the "blatant misuse" of train maintenance funds.
"The one thing that ticks me the most, aside from the blatant misuse of funds by entering into disadvantageous contracts, is the insensibility of public officials to the plight of the Filipino riding public," Poe said.
"Hindi ba't buwis nila ang pinambabayad sa pagaayos at pagmementena ng mga tren at pagbili sa mga bagong mga bagon? Kung ganun, e di dapat masulit naman ang pinambabayad nila," Poe said in her opening statement.
"Napakalaking perwisyo sa mga pasahero kapag nasisira ang MRT lalo na kapag ilang minuto na silang nakapila tapos tsaka sasabihin na magkakaroon pa ng delay. Trapik na nga sa kalsada pero madalas, mas napapabilis pa byahe nila kapag nag-bus na lang sila papunta sa kanilang paroroonan," she continued.
Poe said that the MRT management cannot simply blame train breakdowns on the age of the trains. "The trains are only 15 years old, as compared to those of the LRT 1 na sinasakyan ko noong college pa ako, which are around 30 years old," she said.
The Senate Committee on Public Services will resume its hearing into the failure of management and maintenance of MRT3 on May 23.