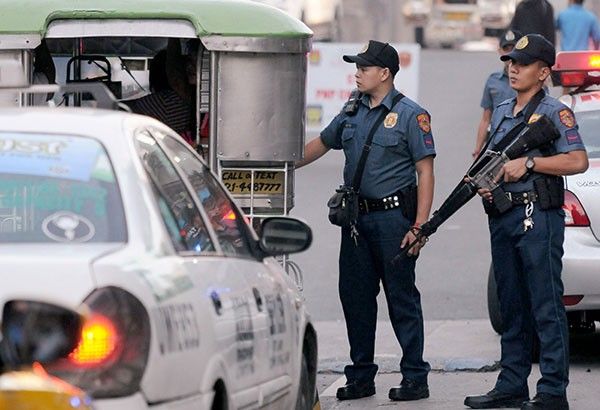 Police officers stop vehicles at a checkpoint along Carlos Palanca street in Quiapo, Manila yesterday.
EDD GUMBAN
Erap sets dialogue with Muslim leaders
After Quiapo blasts
MANILA, Philippines - Manila Mayor Joseph Estrada will hold a dialogue with Muslim leaders at the Islamic Center in Quiapo following the twin explosions that left two persons dead and six others wounded over the weekend.
The meeting will be held at city hall this week.
Estrada assured the public that "everything is under control" amid the series of bombings in the city.
He called on the people to remain calm but vigilant.
Estrada has ordered Manila Police District (MPD) director Chief Superintendent Joel Coronel to deploy additional policemen around the Quiapo area to ensure the safety of the residents and secure commercial establishments as well as government installations.
"I have ordered the local police to be on the lookout for suspicious individuals and maintain peace and order in the area," Estrada said.
The mayor assured the public that police "are on top of the situation."
Estrada ordered Coronel to conduct a meeting with Muslim elders and barangay officials in Quiapo to ask for their help in arresting the suspects in the bombings.
"On orders of Mayor Estrada, we will coordinate with the community leaders. We will sit down with them to ask for their assistance in preventing similar incidents and to provide information that will lead to the solution of the bombings," Coronel said.
He said the Muslim leaders have signified their intention to cooperate with authorities.
"This is a multi-agency approach. Aside from the MPD and city hall officials, we have also invited representatives from the DILG (Department of the Interior and Local Government) and Office of the Filipino Muslims," he said.
Coronel said 350 policemen have been deployed in Quiapo to conduct patrols and checkpoints around the clock, particularly near the Golden Mosque.
Prior to Saturday's bombings, an improvised explosive device went off in Quiapo on April 28 during the Association of Southeast Asian Nations summit in Manila.
The MPD announced yesterday the arrest of Abel Macaraya, one of the four suspects in the blast that left 14 people wounded.
The Islamic State had claimed responsibility for the explosion. But police said it was a result of a brawl between rival gangs and not connected with any terror group.
Police said Macaraya would be charged with frustrated murder and illegal possession of explosives before the city prosecutor's office.