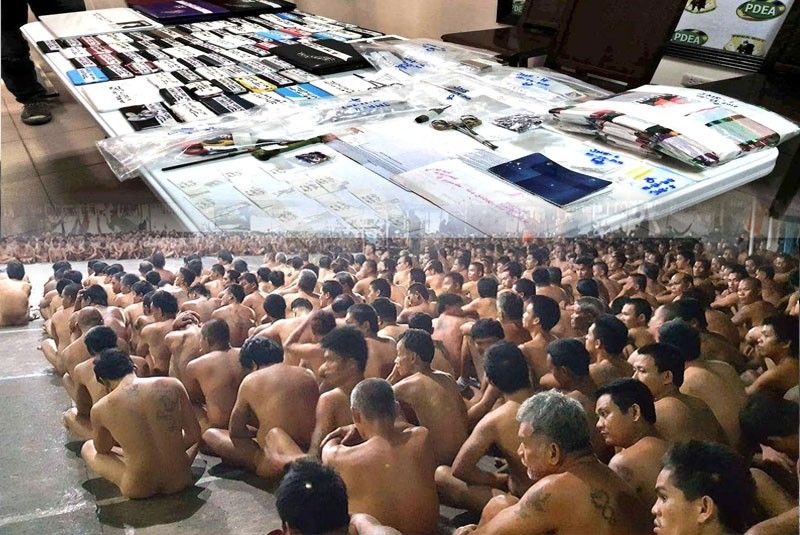 Prohibited items such as illegal drugs, money and cellular phones were confiscated during a joint dawn raid by the PDEA-7, military and police at the Cebu Provincial Detention and Rehabilitation Center yesterday. Naked detainees (below) wait outside as authorities search for contraband inside their cells.
Photos By PDEA-7
PDEA: Nude inmates' photos leaked to discredit operation
MANILA, Philippines — Photos of Cebu provincial jail inmates made to strip naked for an inspection were leaked by jail officers to discredit the operations, the head of the Philippine Drug Enforcement Agency said on Thursday.
"It was intentionally leaked out to discredit drug enforcement agencies. I think they have a connection with the drug syndicate," ?PDEA General Isidro Lapeña said in a televised phone interview on the ABS-CBN News Channel.
He said the guards were disgruntled because they had been left out of the operation.
Photos used in a
Freeman report on the raid
on Cebu Provincial Detention and Rehabilitation Center were credited to the regional PDEA office, however.
Last Tuesday, inmates of the CPDRC were asked to gather in the jail quadrangle and strip naked as authorities scoured the cells for contraband such as drugs and cellular phones.
According to reports,
authorities recovered 76 cellular phones, shabu worth at least P30,000, cash amounting to P92,000, laptops, media players and drug paraphernalia.
Lapeña said that it was PDEA Regional Director Yogi Ruiz who ordered the inmates stripped naked to prevent riots.
He added that it was not the standard procedure but a judgment call that Ruiz made to prevent possible casualties.
Rights group Amnesty International, however, criticized the treatment of the inmates calling it cruel, inhuman and degrading in a statement released Thursday.
The group reminded authorities that it is their responsibility to ensure all persons deprived of their freedom are protected from ill-treatment and torture.
"It is state obligation to guarantee that prisoners are treated in accordance with international standards," Amnesty International said.
The group also called on the government to impose sanctions on officers responsible for ill treatment after through investigations are made, adding that the sanctions should also apply to those exercising command responsibility.
Amnesty International also said that type of treatment employed by the law enforcers and the PDEA violate Article III, Section 19 of the 1987 Constitution.