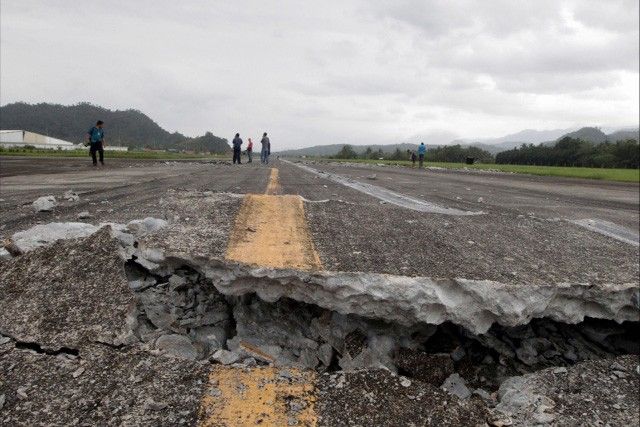 In this photo provided by the Presidential Photographers Division, Malacanang Palace, the damaged runway of Surigao Airport is seen two days after it was rocked by a powerful earthquake late Friday in Surigao del Norte province in southern Philippines Sunday, Feb.12, 2017. The Philippine president has consoled survivors of a strong earthquake that left at least eight people dead, injured more than 200 and damaged an airport, buildings and about 1,000 houses in a southern province. More than 130 aftershocks have followed the magnitude 6.7 quake that struck Surigao del Norte province late Friday.
Robinson Ninal/Presidential Photographers Division, Malacanang Palace via AP
Phivolcs records over 140 aftershocks in Surigao City
MANILA, Philippines — The Philippine Institute of Volcanology and Seismology (Phivolcs) has recorded more than 140 aftershocks in Surigao City.
After the powerful earthquake that struck the city last Friday evening, Phivolcs Director Renato Solidum said that as of Monday morning their agency has recorded 147 aftershocks which he said was normal.
Solidum said the aftershocks may last for weeks and even months but it will always be a unit lower than the magnitude 6.7 earthquake.
"'Wag po silang matakot dito at normal na pangyayari iyan," Solidum advised the public in a televised phone interview.
Solidum said that the recent earthquake affected the Philippine fault-Surigao segment. He said the southern part last experienced a strong earthquake with magnitude 7.4 in 1879 that is why the current residents of Surigao City have not experienced a powerful tremor in their lifetime.
He clarified that the earthquake is not connected to the West Valley Fault. He said the faults can move independently.
The director said that as of posting, the strongest aftershock recorded was a magnitude 4.9 with Intensity V last Saturday afternoon.
In its latest advisory, Phivolcs said aftershocks were recorded in Surigao City and its neighbor province of San Juan, Dinagat Islands.
On Monday, the strongest tremor with magnitude 4.1 occurred at 3:51 a.m. It was felt at Intensity III in Surigao City.
Solidum advised the public to have the establishments and houses with cracks inspected as these may be affected by aftershocks. He warned that aftershocks may also cause a landslide.
He said government agencies should build stronger runways and determine if areas are liquefaction prone.