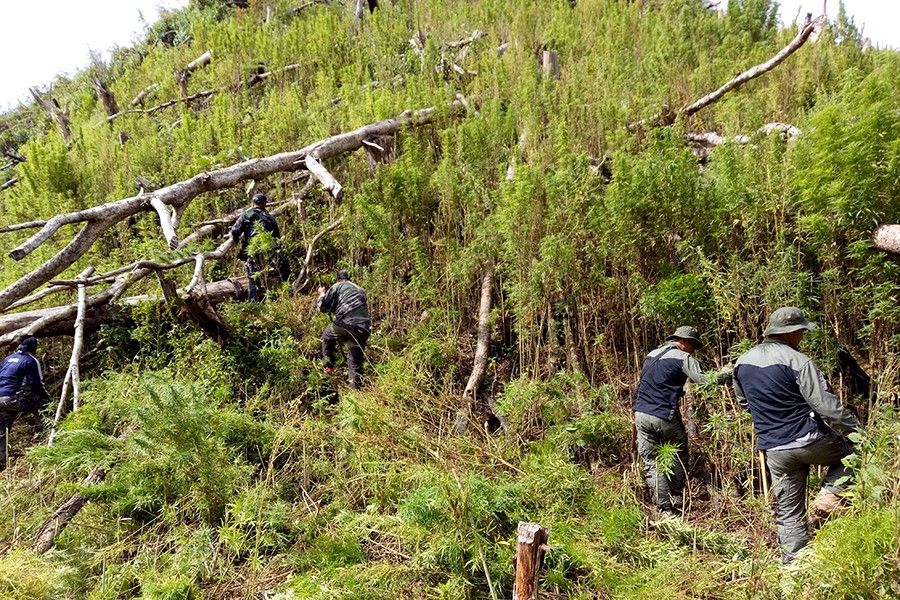 Police uproot marijuana plants in Kalinga. Authorities in the Cordilleras hope to declare the region drug free by the end of 2017.
Artemio Dumlao, file
Abra free of drugs, town anti-narcotics councils say
BANGUED, Philippines – The whole of Abra province is practically drug-free six months after the Duterte administration declared a war against narcotics.
Although an official declaration has yet to be made, all 27 Municipal Anti-illegal Drugs Councils (MADACs) headed by their town mayors have certified that all barangays are free of illegal drugs as of December 25, 2016.
Senior Inspector Grace Marron, Abra police spokesperson, said the Technical Working Group of the Cordillera police has accepted the certifications from all the anti-drug abuse councils from the 27 towns.
Based on parameters given by the Philippine National Police's headquarters, all 303 barangay drug abuse councils in Abra confirmed that not a single drug user or pusher remains in the barangays.
Philippine Drug Enforcement Agency Director General Isidro Lapeña said in September 2016 that "a barangay is said to be drug-affected when there is reported presence of drug user, pusher, manufacturer, marijuana cultivator, or other drug personality, drug den, marijuana plantation, clandestine drug laboratory and facilities related to production of illegal drugs."
Meanwhile, the highland region is aiming to be free of drugs by yearend.
This, as at least 37 barangays in the highlands, specifically in Benguet and Baguio, are still being cleared of alleged drug users and pushers.
Regional Anti-Illegal Drugs Special Operation Task Group chief Senior Inspector Benedict Gang-aoen said 19 barangays in Baguio City and 18 barangays in Benguet are being closely watched and undergoing drug-clearing operations.
Of 1,177 barangays in the whole region under the drug watch, 362 are already considered cleared.
Gang-aoen said they are working on the positive outcome of the war on drugs nationwide in collaboration with the different town police stations, local government units, the Barangay Peacekeeping Action Team (BPATS), stakeholders, community and the media.